For the second week in a row, it was the superheroes of Marvel Studios that ruled the box office as The Avengers banked $103.2 million over the weekend. Most films would kill for that weekend gross as the total amount earned. But, The Avengers has achieved the over $100 million mark with its second week of release! In fact, the film is the first film in history to achieve a $100 million weekend in its second week. Makes you wonder what records are set to fall next week with the Marvel Studios film that won't quit!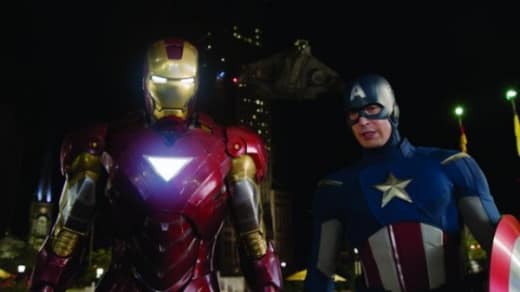 In other news, the film passed the billion-dollar mark in total earnings in an unprecedented 19 days. Its domestic total clocked in at $373.2 million while internationally it has earned $628.9 million.
Johnny Depp and Tim Burton's latest film together,
Dark Shadows
, earned a respectable $28.8 million and finished a distant second. That total is far less than the $116 million they earned on
Alice in Wonderland
.
Think Like a Man
continued to impress, landing in third place with $6.3 million and
The Hunger Games
took fourth with $4.4 million. Slightly behind the Suzanne Collins page-to-screen effort was
The Lucky One
with $4.1 million.
Box office top 10:
1.
The Avengers
, $103.2 million
2.
Dark Shadows
, $28.8 million
3.
Think Like a Man
, $6.3 million
4.
The Hunger Games
, $4.4 million
5.
The Lucky One
, $4.1 million
6.
The Pirates! Band of Misfits
, $3.2 million
7.
The Five-Year Engagement
, $3.1 million
8.
The Best Exotic Marigold Hotel
, $2.7 million
9.
Chimpanzee
, $1.6 million
10.
Girl in Progress
, $1.4 million