The Avengers: Chris Hemsworth & Chris Evans on Superhero Silliness
by Joel D Amos at . Comments
Chris Evans and Chris Hemsworth had the esteemed honor in The Avengers world to have their individual films debut in the same year (2011). Does that connect them forever? We think so, plus it's fun to say "The Chrises" when referring to the fantastic choices made to cast Thor and Captain America. Movie Fanatic is getting the pair's thoughts on their unification-of-superheroes picture that hits theaters May 4 (check out our The Avengers review) and they share some pretty funny moments from filming with director Joss Whedon and co-stars Robert Downey Jr., Samuel L. Jackson, Scarlett Johansson, Jeremy Renner and Mark Ruffalo.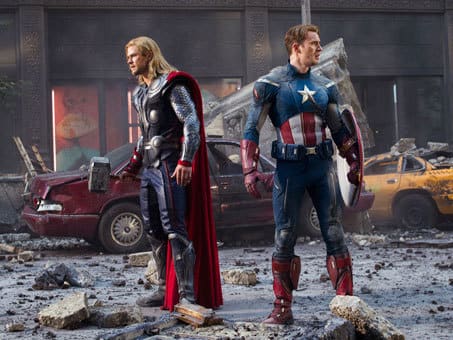 Movie Fanatic:
Take us back to the beginning. What did you like most about your characters, Thor and Captain America, when you first tackled your roles in your individual movies?
Chris Evans:
His heart and his selflessness. He wasn't born a superhero. This didn't happen to him by accident. He was chosen for those reasons -- his values and morals. He puts other people and other causes ahead of himself. It's something to aspire to. 
Chris Hemsworth:
I like the visceral gut instinct that Thor has. There's a bit of a childlike quality, in the sense that, if he believes something and wants to do something, he does it and says it. Kids own their environment. There are no opinions that they really care about. With Thor, it's there. It's surrounded by bravado and strength, and all that, but at the end of the day, he's pretty true to who he is and what he wants to do, and that was fun to play with.
Movie Fanatic:
In
Thor
, you seemed like a fish out of water walking the streets of small town America. Yet, in
Avengers
, Thor appears to still be a bit of the same way. Would you agree?
Chris Hemsworth:
All the Avengers fall into that category. Joss [Whedon] said it early on that we're a dysfunctional family that belongs because they don't belong anywhere else. Thor is from another planet and his motivation through the conflict and the villain was far more personal than the rest of them because it's his brother. It was nice to have already shot that film and to have had that relationship with Tom [Hiddleston]. That was my focus. But, we all didn't get along, at the beginning. Certainly, when you're from some other planet or some other world, it's fun to play that dynamic.
Movie Fanatic:
Reading
The Avengers
script that Joss wrote, what scene got you most excited to film?
Chris Hemsworth:
The section where Hulk and Thor are finally on the same team and fighting the aliens. They end and are both standing there out of breath, and Hulk just backhands Thor. That was something I looked forward to. That had me on a wire, just getting yanked out of the shot. That was good.
Movie Fanatic: Now that filming The Avengers is in the rear view mirror, what stands out as the most memorable scene?

Chris Evans: Mine was the scene where Thor and Iron Man are fighting. I had just seen Thor, the day prior, and I had yet to see Hemsworth or Downey in their full suit. I showed up that night, and it was the first time I saw them both geared up, and I just got really excited. I felt like a little kid. It was just an honor to be a part of it.

Chris Hemsworth: That was our first day on set, too, with the whole ensemble, which was a pretty exciting and nerve-wracking experience. That was amazing!

Movie Fanatic: Now Mr. Evans, how nice was it to play the straight man in a group of jokesters?

Chris Evans: Yeah, it's tough not getting any jokes [laughs]. That's the role. It's necessary. That's why I like it. I'm used to leaning on cracking jokes and being the smart ass, so it's nice to play it straight a little bit. I think with this film, even more than the first Captain America, Steve Rogers has some issues, some conflicts and some trouble with the fact that he is a man out of time. But, given who he is as a man, his nature is that he puts that second and the mission first. He's selfless. It's a fun character to play.
 
Movie Fanatic: Speaking of humor, the script Joss Whedon wrote is filled with it. Was it ever hard to keep a straight face with Robert doing his thing?

Chris Evans: Anytime you do a scene with Robert Downey Jr., he's so good with improv and working off-the-cuff, it can be a challenge. He's never going to do the same thing twice, so you've just gotta be on your toes. He's just funny. He's always funny. He brings a certain life to the scene. Even if you're not the one making jokes, you can appreciate what he brings to any scene, in terms of comedy.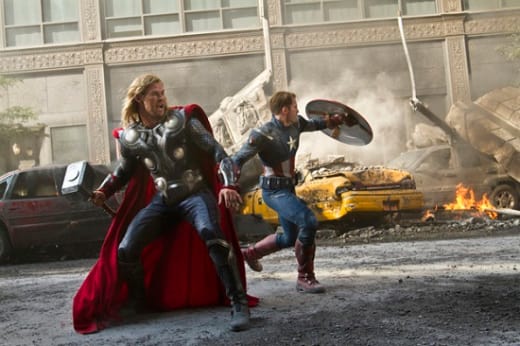 Movie Fanatic:
Thor has a great moment of hilarity too…
Chris Hemsworth:
Yeah! The line where I say, "He's adopted." I had no idea that would be funny [
laughs
]. When we shot that, I went, "Is this really funny?" But, that's the thing. Joss is hilarious. The whole film, I was surprised how the comedy in it played so well.
Movie Fanatic:
Did anyone get injured during filming?
Chris Hemsworth:
I had one! The scene where Thor takes Loki off the ship and lands. I was on a wire because I hadn't learned to fly yet, and I had to come down and land on the cliff, step and have the conversation. For the first couple of takes -- and it's going to turn up on the DVD extras somewhere -- I just face-planted into the dirt. It was incredibly ungraceful and unsuperhero-like.