Mark Ruffalo is clearly marveling at his good fortune sitting at The Avengers press junket in Beverly Hills. He's new to the Marvel world, but is playing a character that has had two previous film incarnations that were considered less than savory by fans of the green monster. After meeting with director Joss Whedon, Ruffalo was able to zero in on where he should channel his inner Bruce Banner/the Hulk.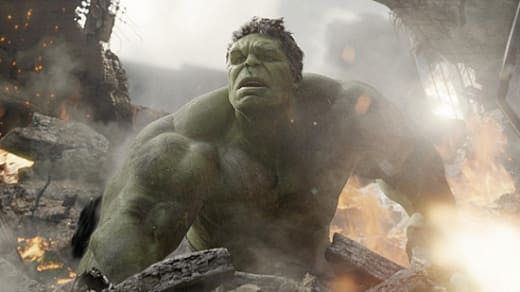 "Joss said he really liked
The Incredible Hulk
TV show and what Bill Bixby did with him, so I rented those with my 10-year-old son," Ruffalo recalled. It was, of all things, the actor's son that provided him the spark to make his Hulk an unforgettable one. "After the third episode, my son turned to me and said, 'Papa, he's so misunderstood!' I basically based my character entirely on my 10-year-old boy, who has all of the force of nature screaming out of his body while at the same time having everyone around him telling him to (expletive) control himself."
As we state in our
The Avengers review
, Ruffalo is a shining light in an already brilliant movie. His Hulk has us wanting more… sooner rather than later. It wasn't easy for the revered actor to tackle the role. He knew the stakes. "It was terrifying. I knew what my responsibility was. I felt it just by making the mistake of going online and reading some of the fanboy responses to the announcement that I was playing the next version of Bruce Banner. I will never do that again," Ruffalo said and laughed. "I've never had a role be more scrutinized and criticized, even before I'd shot a single frame."
Then his nerves hit him again once he neared the time to shoot the movie. "Coming onto the set with all of those guys was pretty daunting. Many of my heroes in life are in this cast. So, I knew that I had big shoes to fill, so to speak. It was tough, and I wish that I had a cool costume to wear the entire time, instead of a leotard that was painted like a Chinese checkerboard," Ruffalo said of his motion capture suit.
Sure, he got the character better than anyone has in decades. But, what struck us meeting Ruffalo in person was how much it seemed he developed an affinity for the Hulk. "We're all told to be so well-behaved. Sometimes we're all bursting at the seams to let it rip. Bruce Banner gets that moment. Part of the joy for people is to actually see that happen," he said. "That's exciting for us. It's a nice way for us to blow off steam -- in watching movies -- especially me."