As the Hulk does in The Avengers, the superhero movie did to the competition: It smashed! The Marvel Studios and Walt Disney film banked a record $200.3 million in its first week of release. It broke the previous opening weekend record held by Harry Potter and the Deathly Hallows Part 2 ($169 million). That wasn't the only record made by the film featuring Iron Man, the Hulk, Captain American, Thor and their fellow superheroes.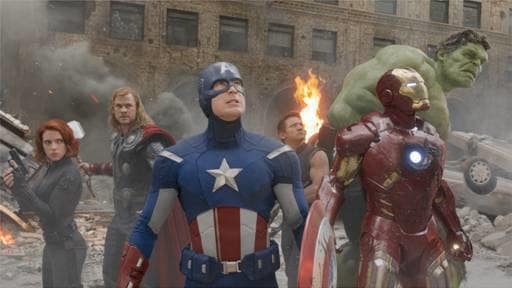 The Avengers
also broke records for: The fastest movie to reach $100 million, $150 million and $200 million. It also now owns the record for the highest-grossing single Saturday and Sunday ever with $69.7 million and $50 million respectively. Speaking to how universal the success of the film was, it also shattered the record for most cash brought in per theater: $46,000 per screen.
The film also has the rare distinction of having an audience-rated CinemaScore of A+.
The rest of the top 10 hardly matters given the financial disparity between one and two... but last week's number one --
Think Like a Man
-- came in second, adding $8 million to its total haul of $73 million.
The Hunger Games
bounced back up the charts, landing in third with $5.7 million. Its total is now a staggering $380.7 million.
The Lucky One
came in fourth with $5.5 million and fifth belonged to the animated
The Pirates! Band of Misfits
with $5.4 million.
Something that warmed Movie Fanatic's heart is how well DisneyNature's Chimpanzee is doing. The film landed in ninth place, banking $2.4 million. Its total is now $23 million, some of which goes to protecting the adorable creatures.

Box office top 10:

1. The Avengers, $200.3 million
2. Think Like a Man, $8 million
3. The Hunger Games, $5.7 million
4. The Lucky One, $5.5 million
5. The Pirates! Band of Misfits, $5.4 million
6. The Five-Year Engagement, $5.1 million
7. The Raven, $2.5 million
8. Safe, $2.47 million
9. Chimpanzee, $2.4 million
10. The Three Stooges, $1.8 million