Prepare yourselves, Batman fans--or fans of Anne Hathaway's tightly-swathed butt area--because a ton of new pictures from The Dark Knight Rises have hit the internet, including two magazine covers, courtesy of Batman-News.com and Empire Magazine. Check them out below (click thumbnails to enlarge).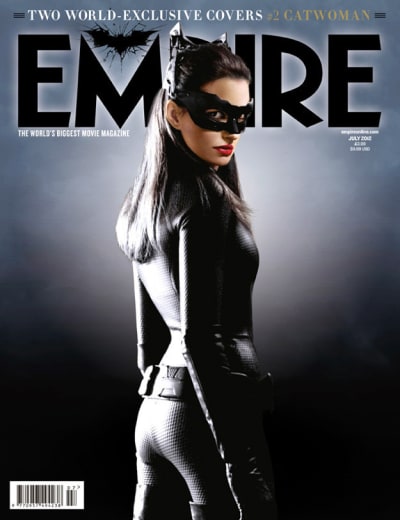 The pics come on the heels of the first two Dark Knight Rises tv spots, which aired during last night's American Idol finale. They feature most of the film's major characters, including Christian Bale as Batman, Hathaway as Catwoman, Joseph Gordon-Levitt as John Blake, and Tom Hardy as Bane.
Hardy can be seen later this year alongside fellow Dark Knight Rises actor Gary Oldman in the Western crime drama Lawless. Check out this Lawless clip to see Hardy deliver an amazing monologue.
The Dark Knight Rises is the third Batman film directed by Christopher Nolan and starring Bale as the Caped Crusader. The film can be seen in theaters beginning July 20.