A new Dark Knight Rises character banner has dropped, this one for international release. Check out the Spanish language Batman banner below. What do you suppose he's looking at? My guess is there's a falafel stand over there that he really likes.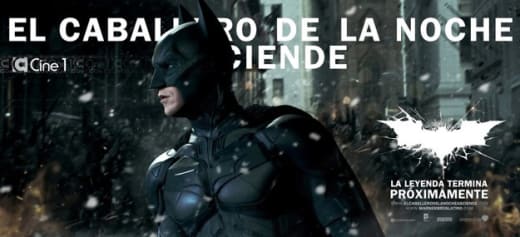 With new images and videos releasing practically daily, including the latest The Dark Knight Rises TV spot, Warner Bros. is really amping fans up for the film, which stars Christian Bale, Tom Hardy, and Anne Hathaway.
Donning Catwoman's exceptionally tight leather suit is not all Hathaway is up to lately. Yesterday saw the release of the first Les Miserables trailer, which features Hathaway prominently, showing off her singing voice. I wonder if she'll have any occasion to bust out those pipes in The Dark Knight Rises. I hear Bane's Achilles heel is musical theater.