Movie Fanatic braved the haunted halls of Los Angeles' haunted Linda Vista Hospital to experience the unexplainable, and while we're at it learn more about the found footage flick The Devil Inside. To mark the Blu-Ray and DVD release today of the smash film from January 2012, Paramount Home Media took us on a field trip that was reminiscent of the feel and horror of The Devil Inside.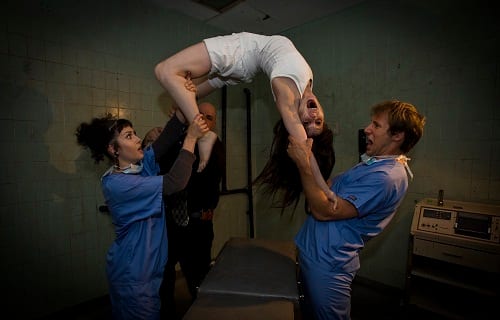 The hospital opened in 1904 and was eventually shut down in the 1980s. Since then, neighbors and workers at the facility (it's been deemed a historical landmark) have spoken of the unexplained. We heard of happenings as mild as hair being pulled to a voice calling out a name that turns out to be the name of a doctor murdered in the building's parking lot. Also, we witnessed rooms that were broken into where sacrifices took place.
Our first video captures our experience as
The Devil Inside
comes to life…
After a tour and a few chilling moments that had us screaming like a little girl, Movie Fanatic spoke to two cast members from The Devil Inside. First was Suzan Crowley, who plays Maria Rossi, a woman who executed three church workers while they were trying to exorcise her. We also caught up with Bonnie Morgan, whose character Rosa caused chills in The Devil Inside trailers. You know her! She's the one who contorts in the most inhuman of ways as a possessed soul in one of the film's pivotal scenes.
And yes… Movie Fanatic felt much better after being blessed by a priest on our way out!

Don't forget to check out my exclusive interviews with The Devil Inside's star and creators: Fernanda Andrade, William Brent Bell and Matthew Peterman.