When Sacha Baron Cohen sells one of his comic creations, he always does his press tour in character. The Dictator himself, Admiral General Aladeen, recently gathered the movie press corps and took a few "questions" from the audience. Movie Fanatic brings you the highlights.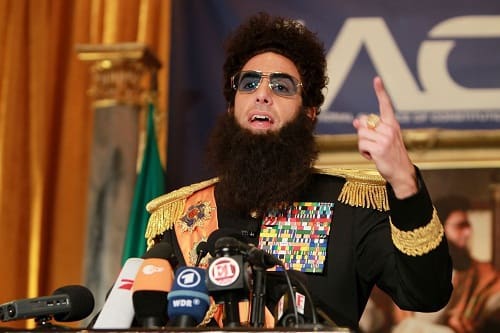 "We dictators aren't all bad," he began. "While Western countries continue to ravage our planet's resources, we preserve our land and conserve it by burying thousands of bones in single mass eco-graves." 
Cohen doesn't waste any time before leveling a political bomb as the North African autocrat. "On behalf of my dear friend and doubles tennis partner President Assad of Syria, I want to thank the United Nations for their brave inaction over Syria," Cohen as Aladeen said. "Thirteen months and still no security counsel resolution. You guys are amazing. You have done next to nothing for the Syrian people -- but remember, you can always do less." 
As these are film journalists, the topic then turns to any disparity between the film industry in America versus his home country. "There are differences between the Wadiyan film industry and Hollywood," he said. The man who appeared in his country's
You've Got Mail Bomb
is keenly aware and offers insight into how we differ. "People say I am extravagant for using 20 trillion bottles of Fiji water every day to make snow for my ski resort in the middle of the desert, but am I the person who created
John Carter
?" 
Well then Mr. Entertainment, what is this tyrant's favorite TV show? "When I am not watching my people, I am glued to the couch watching the satellite television. My favorite shows are Wadiyan. We have our version of
Two and a Half Men
. It used to be called
Three Men
but one of them tried to steal a grapefruit."
His Excellency then addresses the rumors of Megan Fox's pregnancy. As we've seen in The Dictator trailer, Fox is a conquest of Aladeen's. "Congratulations to Megan Fox for being pregnant. There are rumors that I am the father, but this is literally impossible," he said and leaned into the microphone. "It would be the first anal conception. If she is pregnant, so is Heidi Klum and also Donald Trump. He does anything for money."

The timing of the release of the film is impeccable as the world has said goodbye to so many real world dictators. "It has been a tough year. We have lost a lot of good people and I have lost a lot of good friends -- Gaddafi, I miss you [looks in the air]. Sorry, Gaddafi, I miss you [looks at the ground]," he said. And most recently… a North Korean stalwart. "KJ, Kimmy G, K-Jo, K-Man -- you know, Kim Jong. And of course, you know, Chavez died last month. Oh oops, you did not hear that from me."