Sacha Baron Cohen's latest character creation in The Dictator is actually his first on film that didn't originate on Da Ali G Show. Borat and Bruno were familiar to fans, but Admiral General Aladeen is his first screen effort started from scratch and what a powerhouse of comic mayhem!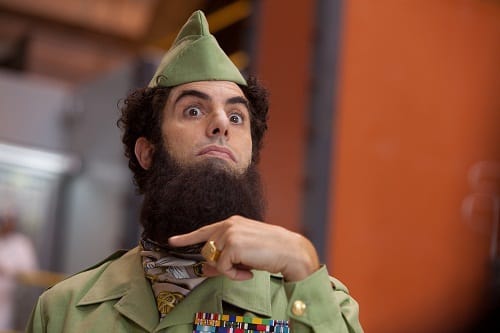 Cohen has always pushed the envelope with his comedy and
The Dictator
is no different. It starts with a bang and proceeds to only improve as the film progresses. The film commences with a short newsreel biography of our North African supreme leader and how he came to power in the oil rich country of the Republic of Wadiya when he was seven years old. He has since done his best to suppress his people to the ire of the free world. In the hands of the UK actor, his dictator is affable in his autocratic ways… and that is exactly why the film works so well.
There are few comic actors out there who could pull off getting the audience to champion someone who is so outrageously out of the norm of human behavior. Anyone who disagrees, or even questions him, is put to death with a frantic throat-slicing motion from Aladeen's hand. Yes, it produces audience-wide laughs. That is because we know this is a joke.
Some may find it offensive, but that is where great comedy lives in that gray area between stoic and silly. Knowing the Middle East and dictators from any region for that matter, people know that their hunger for power that reduces the rights of women while craving world domination and perhaps a little enriched uranium along the way is the norm for Aladeen and his ilk. 
In
The Dictator
, Admiral General Aladeen is summoned to the U.N. when its weapons inspectors are not allowed to determine whether his uranium enrichment program is for energy or weapons. Cohen's character sees it as an opportunity to extol his virtues and honor those tyrants who have come before him thumbing their noses at the world's sense of balance. When he arrives in New York, our story truly takes off. Through a series of comic events, he is stripped of his iconic beard and is left to wander the streets of Manhattan as an everyman… something he finds worse than death.
When he meets up with Anna Faris' Zoey, an earthy left-leaning Brooklyn organic food store owner, one thinks he has a chance at redemption. Yet, his power yearnings are still front and center while a body double, put in place by Aladeen's right hand man Tamir (Ben Kingsley), is seeking to tell the U.N. of his plans to bring democracy to their country. Oh, the horror!

Our put-out-on-the-streets dictator must do everything he can to reclaim his rightful place as one of the world's "best" tyrants.

Cohen co-wrote the screenplay and his brand of hilarity is on every frame. He re-teamed with Borat director Larry Charles and has crafted a razor sharp farce that hits all the right notes, even as many of those could appear overtly offensive. Is it too soon to laugh at an American couple on a helicopter (as seen in this The Dictator scene) sensing terror from Aladeen and his cohort as they discuss (in Arabic) 9/11 and Bin Laden living in the dictator's guest house? Perhaps, but what Cohen has done in that scene, for example, is placed a mirror to our society and shown how our paranoia and xenophobic nature as a people is so ridiculous, that it is more than ripe for lampooning.

With Cohen at the wheel, he has found brilliance in a bodacious character. He produces a laugh-a-minute comedy that will surely stand the test of time as long as there are tyrants in the world (like Assad in Syria) repressing the people they claim to represent.