Either Gatsby is about to suck Daisy's soul out from her eyeballs, or these two are about to kiss. The woods would be a good location for either.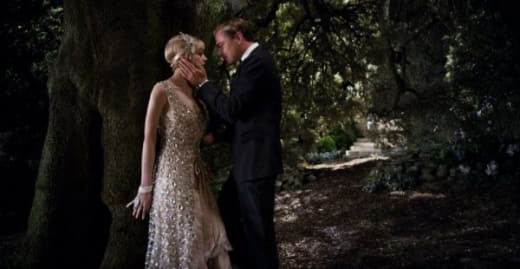 This still image comes on the heels of the first The Great Gatsby trailer, released earlier this week. Leonardo DiCaprio stars as Jay Gatsby, with Carey Mulligan as Daisy Buchanan, and Tobey Maguire as Nick Carraway.
Maguire, best known for playing Spider-Man in the Sam Raimi films, will also appear in Ang Lee's latest, Life of Pi, which arrives in theaters December 21. The Great Gatsby will also feature Joel Edgerton and Isla Fisher, who played the eccentric Gloria Cleary in The Wedding Crashers (check out some of her most hilarious The Wedding Crashers quotes).
The Great Gatsby, an adaptation of the F. Scott Fitzgerald novel, is directed by Baz Luhrmann, and will open December 25