After perfecting the little brother who tries to take over the Asgard kingdom role in Thor, Tom Hiddleston is back in The Avengers as the bad guy who seeks to take over Earth. His presence is what unites Captain America, Iron Man, the Hulk, Black Widow, Hawkeye and even his brother Thor. Hiddleston is sitting at the Four Seasons Beverly Hills on a recent Thursday afternoon for an exclusive chat with Movie Fanatic about channeling his inner evil.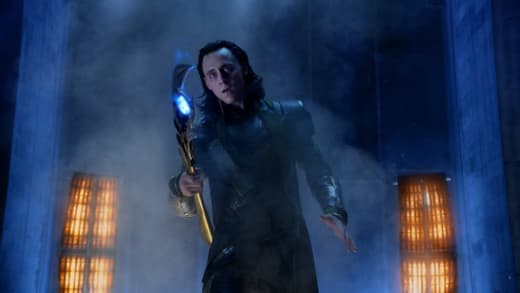 In
The Avengers
, the Loki we meet in
Thor
is even more of a despot. Yet, he firmly believes he is doing the citizens of Earth a favor by taking over.
"I think he genuinely believes in his kind of motivation which is that the human race is busy fighting each other. The planet Earth is rife with war and if the human race was united by the reverence of one king, he would create peace. It's hopelessly deluded and misguided, but he's also a character that's also brought up with the expectation of his entitlement," Hiddleston said.
The actor points as proof to the groundwork that was laid out in
Thor
. "Odin said to Thor and Loki as children that only one of you will ascend to the throne, but you were both born to be kings. Because he is the son of Lafi, the king of Odenheim, and that's only something that he finds out in Thor, the narrative of his life is revealed to be a lie. So he finds out that he was adopted, that he was cast out, that he was neglected, rejected and the whole thing feels like the most enormous betrayal."
Hiddleston believes, as many actors do that Movie Fanatic has spoken to, that his villain isn't necessarily a bad guy. He's simply psychologically wired to be that way. "You have someone with an expectation that he was born to rule, born to be king and he has no kingdom. He doesn't have Asgard. He doesn't have Odenheim. What is he going to do? He's going to come down to Earth and fashion this planet as his kingdom. It's pretty tragic, but he thinks he's doing the right thing."
The actor found great joy in returning to a character he has already played, and also the freedom to take him to the next level in
The Avengers
. "It's just a privilege to come back. It's like meeting an old friend that you haven't seen for awhile. I hope that there's enough consistency that people can understand the foundations of a character that were laid down in
Thor
but we evolved because nobody stays the same. Everybody grows all the time and Loki has just evolved in a much darker direction. He's more self-possessed. He's more self-aware," Hiddleston reported.
The British thespian felt blessed to work with two very different directors for Thor and The Avengers, yet both appreciated what he did to bring Loki to life as a continually evolving character.

"My good fortune is that Joss Whedon loved it, he loved Thor so much and loved what Kenneth (Branagh) did with that whole film and he was so kind about what Chris (Hemsworth) and myself did in it. He said that your fraternal conflict is the center of my film as well because that's the reason that you come down to Earth. You don't care about Thor anymore. You don't care about Odin or Asgard. For you guys, it's personal with all of this business of saving the world or destroying it. For the other Avengers it's different but it's personal in a different way. Thor is the only Avenger for whom the bad guy is -- it makes for slightly different things. So it's just really great to just come back around and do it again and do all the things I couldn't really get to do in the first one, which I hope, in this film, Loki lives up to this moniker as the god of mischief."