With the arrival of The Avengers at theaters, the summer movie season has officially started. Over 100 films will be coming at us in the next four months, highlighted by what could be called the most anticipated movie slate for any summer in memory. Between a Spider-Man reboot, the final Dark Knight film, Pixar's first female heroine debuting in Brave and the Men in Black returning for the first time in over a decade, it should be a summer for the ages.

There are so many to choose from, but Movie Fanatic managed to come up with our Top 10 Movies of Summer 2012 to highlight which films need to be on your radar.

10. The Campaign
We have to wait until August 10, but from what we saw at CinemaCon in Las Vegas last week, this is the comedy to beat this summer. Zach Galifianakis and Will Ferrell star as opposing candidates running for congress. The sizzle reel we witnessed had the entire house falling off their chairs laughing. The two comic actors are impeccably cast and the premise has humor written all over it.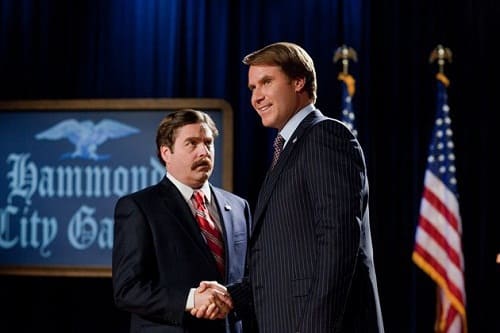 9. The Bourne Legacy
The casting of Jeremy Renner to take over the
Bourne
franchise has us not missing Matt Damon so much. After seeing Renner in action in
The Avengers
, we believe
The Bourne Legacy
has the power to be one of the best action movies of the summer.
8. Men in Black 3
It's been over a decade since Agent J and Agent K kept the Earth safe from aliens who wish to do us harm. Director Barry Sonnenfeld returns to his franchise to direct the third installment that feels a whole lot more like the first film than the second. Will Smith and Tommy Lee Jones are masterful together once again, but the actor who steals the show is Josh Brolin. He doesn't do an imitation of Jones (he plays the younger Agent K as Smith's Agent J goes back in time in the film), he becomes Jones as Agent K. It is stunning.
7. Abraham Lincoln: Vampire Hunter
Seth Grahame-Smith told us in our exclusive interview that the inspiration for Abraham Lincoln: Vampire Hunter was his vision of our greatest president as an action hero. There's an incredible origins story for Lincoln as he overcame so much to become president. Then, as president, he had to be almost super-human to keep the Union together. Toss in a raging army of vampires and the prez's lifelong passion for offing them and we have ourselves a wildly unique film premise.
6. The Amazing Spider-Man
Do we need a reboot of Spider-Man so quickly after Tobey Maguire headed into the sunset? From the Amazing Spider-Man trailer that just debuted, we believe that answer is an absolute yes. Andrew Garfield will be a fantastic Peter Parker. Emma Stone will kill it as Gwen Stacy and director Marc Webb has a passion for the mythology that will take the story of the webbed wonder to new heights.
5. Brave
We've seen over 30 minutes of footage from the first Pixar film to feature a female heroine and it is astonishing. Merida is a Scottish princess who would rather ride her horse Angus while shooting her bow and arrow, than be gussied up to meet her future husband. The film focuses on fate and how much control of our own we have, or don't have. Pixar is known for its rich history, and Brave could very well be one of their best.
4. Snow White and the Huntsman
This is no Snow White as anyone remembers. Kristen Stewart's titular character fights and is hardly a damsel in distress. If anything, she causes the distress! Toss in Charlize Theron's Evil Queen and Chris Hemsworth as the Huntsman, and this classic fairy tale becomes a period piece action movie for the ages.
3. The Avengers
As we stated in our The Avengers review, Joss Whedon has crafted Marvel perfection. Combining Iron Man, the Hulk, Captain America, Thor, Black Widow and Hawkeye could not have been an easy task. Yet, Whedon makes it look easy and the victor in the Avengers sweepstakes is the audience. It already has a spot on our Top 10 of 2012.
2. The Dark Knight
If it weren't for what sits at number one, the final foray into the world of The Dark Knight would be tops for summer 2012. Christopher Nolan and Christian Bale tackle their last Batman film and with Bane as the baddie, what we've seen so far is epic and masterful.
1. Prometheus
It's been decades since director Ridley Scott helmed a sci-fi adventure. After his genre-defining work on Blade Runner and Alien, the simple fact that he was tackling sci-fi again had us at go. But, Prometheus promises to be so much more. Is it a story about the origins of humanity? Is it a prequel to Alien? What if we told you the answer to all of the above was yes? Whatever it is, every Prometheus still, trailer, clip and viral video has us completely enthralled.
Honorable mentions: GI Joe: Retaliation, Rock of Ages, Madagascar 3: Europe's Most Wanted, The Watch and Total Recall.