It's hard to know where to begin to review Abraham Lincoln: Vampire Hunter. First, one must know that the experience is utterly insane, and Movie Fanatic means that in the most adoring of ways.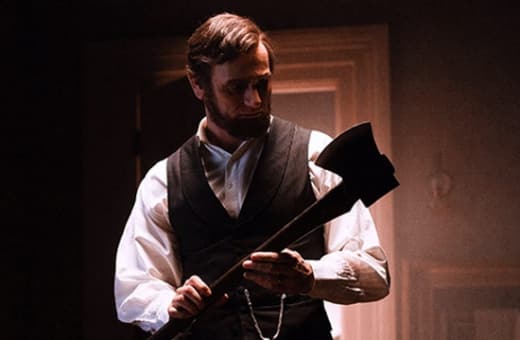 Based on the bestselling book by
Seth Grahame-Smith
, the film could not have been brought to life by a better director in
Timur Bekmambetov
. Add in the casting of Benjamin Walker as Honest Abe and this genre mash-up lands firmly in the "must see on the big screen" category. The movie is in 3D and the format works for how beautifully the film was shot.
Our story begins with Lincoln, as president, writing his thoughts from the Oval Office. Flashing back to when Abraham was a boy, the origins story begins. If there ever was a White House resident worthy of superhero status, it is Lincoln -- with the story of his youth, the rise through the political world and how he risked everything to save the Union from dissolving based on the principles that "as long as there are slaves, we are all slaves." His mother first extols that virtue, and then Walker's Lincoln refers to it throughout.
History-meets-fiction immediately takes control. Every American knows the story of Abraham Lincoln and that could be because the nation gets a day off from work for the man's birthday! In all seriousness, the stretches in historical accuracy that
Abraham Lincoln: Vampire Hunter
employs are beyond clever, all while the film still interweaves a man-against-vampire study that was born when Lincoln's mother was slain by a night walker.
Grahame-Smith's Lincoln has humble beginnings, much like the real icon. He studies to be a lawyer in Springfield, Illinois -- again, mirroring the legend's life. Why he is in Springfield is clever conjecture and gives us our thrilling tale. Sent there by a mysterious mentor (Dominic Cooper) who has trained him in vampire slaying, our future executive branch leader becomes consumed by right and wrong when it comes to slavery. The author and filmmaker efficiently show how slavery is tied into the idea of pacifying a vampire presence that is contained to the U.S. South. Best not to make trouble in that area... until Lincoln sees an opportunity to kill two evils with one fell swoop.
Walker channels the 16th president from 18 to 55 and is a marvel. But, he is not alone in the acting awesomeness. Cooper is as steely as Anthony Mackie is warm playing Lincoln's best friend from childhood. Rufus Sewell does his bad guy thing and the results keep the fire hot onscreen. There is a confrontation coming between the vampire world and Lincoln and the resulting cinematic experience is a jaw-dropping, head-shaking journey into presidential ass-kicking of the highest order.