One of the most powerful films of 2012, Beasts of the Southern Wild, has come from the most unlikely of sources: First-time filmmakers Benh Zeitlin and Lucy Alibar. And what if we told you that the leads, as well as much of the cast, had never acted prior to this astounding film? Believe it.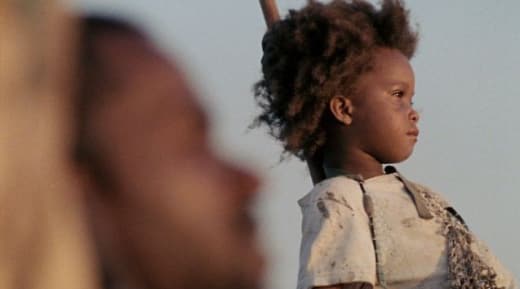 Alibar and Zeitlin co-wrote the script and the latter directed in a mesmerizing tale of a band of citizens who lives on one of the islands south of New Orleans. Their life may be poor materials-wise, but rich in many other ways. For one, they adore where they live, affectionately in the movie called the Bathtub. Every time a storm rolls in, whether a hurricane like Katrina or even a tropical storm, they are isolated and left to fend for themselves. They wear that fact like a badge of honor.
The story centers on a father, Wink, and his eight-year-old daughter, Hushpuppy (
Dwight Henry and Quvenzhane Wallis
). They can only live day to day and it's hinted that the father may have some mental problems, forcing the daughter to be more self sufficient than most kids ever are. It is a powerful bond, but at times difficult to watch. During one period, Wallis' character has to fend for herself for days as her father has wandered off.
The young actress is the heart and soul of the film and serves as its narrator. It is uncanny how riveting her performance is, as is that of Henry's. As little as Hushpuppy is, her presence is enormous -- almost larger than life. There is no question Wallis gives a performance equally as intense as Anna Paquin in
The Piano
and Tatum O'Neill in
Paper Moon
. Both of them won Oscars.
Although their community is solid, their infrastructure is feeble in
Beasts of the Southern Wild
. It seems as if time and society as a whole have forgotten them. One thing is for sure, audiences will never be able to shake the power and grace, emotional gravity and eloquence of a film that is the absolute best we have seen thus far this year.
The movie is beautifully shot and -- despite the sometimes difficulty in witnessing the hard lives portrayed on screen -- serves as a love letter to the region, its natural bounty as well as the resonance of the people who inhabit this almost inhabitable place. No one who experiences
Beasts of the Southern Wild
will soon forget the visit.