Robert Pattinson has officially moved past Edward in the Twilight series. The British actor is downright fierce in the film adaptation of Guy de Maupassant's novel Bel Ami. Pattinson is Georges Duroy, the son of a poor farmer, who finds himself in 1890's Paris after serving as a soldier in Africa. Barely able to put two coins together for a meal, he heads out one fateful night and meets Charles Forestier (Philip Glenister) -- an officer who took a liking to him on the fighting fields.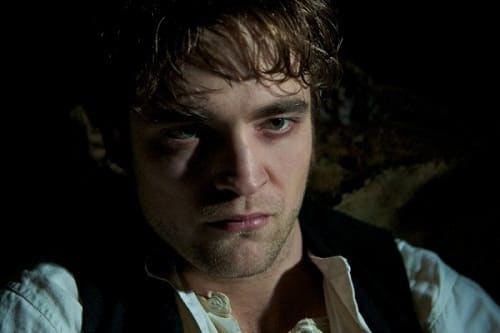 Immediately he is thrust into the upper crust world of Parisian high-end social circles. Georges lands a job as a writer for the most powerful newspaper in the city, led by Rousset Walters (Colm Meaney). Although the men he encounters appreciate him, it is their wives who seem to find him more fascinating than what they have at home.
Georges uses that "in" to manipulate and connive his way up the social ladder.
Pattinson brings a shyness meets slyness to the role and sizzles on every frame. The young actor has truly arrived with
Bel Ami
as he inhabits every scene of the movie with a panache that shows what
Twilight
director Catherine Hardwicke first saw in him when she cast him as Edward. The entire film would not work if not for the choices Pattinson makes as a performer throughout. The audience pulls for his character, even if he is less than morally sound.
The supporting cast is stellar with Christina Ricci, Kristin Scott Thomas and Uma Thurman as his romantic conquests. Each plays their role efficiently and even though
Bel Ami
is the Robert Pattinson show, the trio of female leads makes the entire screen experience feel more like an ensemble than the one-man show it could have been. She is always fantastic, so it should hardly be a surprise, but Thomas astounds as the wife of Rousset. Her wife is lonely, but happy. And it is not until Pattinson's Georges sets his sights on her that the actress truly brings the power. How her character alters in a matter of moments is a lesson in the art of acting.
It is clear after witnessing Bel Ami that the work is based on a book. Maupassant's Paris has such intricate detail, that screenwriter Rachel Bennette had half her work already done by the author's uncanny account of the French capital of that time. Movies based on classic books can either disappoint or invigorate. Bel Ami does the latter and makes us want to return to Maupassant's pages for more.