Joining the ranks of one of the great joys that is the high school-set movie, High School is one fantastic ride. Matt Bush portrays a valedictorian on the cusp of graduation. One fateful afternoon, he goes against all his better judgment and joins an old friend for a little marijuana inhalation. What he doesn't know is that the school's tyrannical Dean (Michael Chiklis) is about to enact a mandatory drug test for the entire school body. Anyone who fails will be immediately expelled. Bush's Henry panics. Then, his buddy Travis (Sean Marquette) hatches the perfect plan: Get the entire school high and then the test will be rendered void.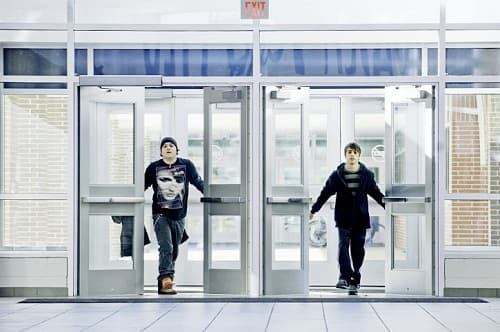 That is where the most astounding aspect of this film makes its debut in the form of Adrien Brody's drug dealer named Psycho Ed. The Oscar winner for
The Pianist
has gone off the rails in the most brilliant of ways in
High School
which should go down as one of the actor's most astounding performances. When he's in a scene, there is nothing else the audience can look at -- but, more on him in a moment.
Writer-director Marc Stalberg has weaved a yarn that is equal parts hysterical, heady and seriously laced with hijinx -- pun intended. When Travis and Henry steal a priceless amount of a marijuana product from Psycho Ed, they make an enormous batch of weed-laden brownies and slyly switch them with the brownies earmarked for a school bake sale. Watching the entire school unravel, including teachers and Colin Hanks' barmy Assistant Dean, is one long laugh-out-loud moment.
High School
is in many ways a modern study of our society morays and expectations for our youth. Henry embodies the good kid with dreams that are sky high and how our society can have them dashed for one small mistake. The film is also a triumph of the spirit in that it shows that with fortitude to make what's wrong right… a brave soul can emerge. As embodied by Bush,
High School's
hero is an everyman that reminds us ironically of his co-star's father… Tom Hanks.
But, there are two true stars of this sizzling stoner comedy: Chiklis and Brody. The former got his start in comedy, so to see Chiklis meld into the school administrator from hell is an utter blast. And the former blows out of the water any preconceived notions audiences may have of an Oscar winner. Brody is a revelation. For his performance alone, High School is worth attending. As a whole, the film should take pride in successfully joining the upper legion of high school-set movies that have become perfect pop culture moments in time.