After a barrage of Iron Man 3 villain casting news last week, the superhero threequel has finally started shooting in Wilmington, NC. The fine folks at Marvel Studios have even given us a bit of proof, releasing the first photo from the set of Iron Man 3. The photo shows action being called on Robert Downey, Jr., standing in front of the various marks of the Iron Suit.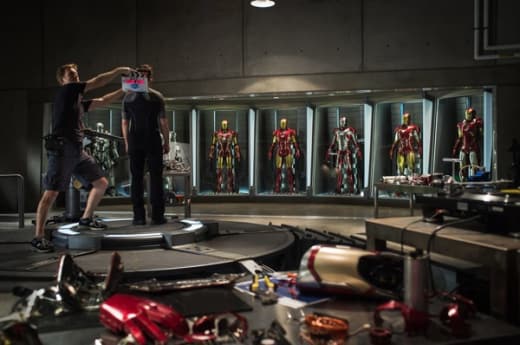 The film once again stars Downey Jr., Gwyneth Paltrow, and Don Cheadle. Ben Kingsley and Guy Pearce join on as The Mandarin and Aldrich Killian, respectively. Jon Favreau is not directing the third film, having passed the reins to Shane Black. Favreau will, however, make an appearance as Happy Hogan.
With the success of The Avengers (check out The Avengers wallpapers), Marvel is rolling out numerous films as part of the franchise, including Thor 2, Captain America 2, and The Avengers 2.
Iron Man 3 will hit theaters on May 3, 2013.