In Jeff, Who Lives at Home, Jason Segel portrays the title character. As the movie begins, he is living at his mother's house in her basement, spending most of his days lounging around trying to find a life purpose. Movie Fanatic caught up with the film's co-director Mark Duplass (Cyrus) and star Judy Greer at The Basement, a bar in Santa Monica, for a few drinks and a chat about the fantastic film they created as it arrives today on Blu-Ray.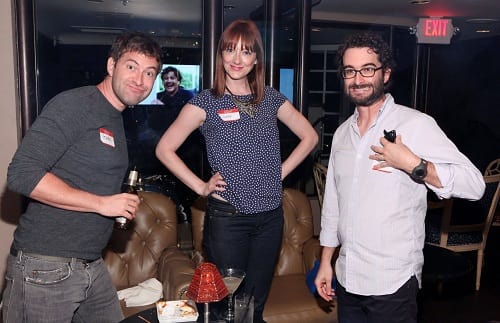 For Greer, her passion for the film was evident as she couldn't simply witness it once. "I've seen this movie three times. I just love this movie," she told Movie Fanatic as she was brought a glass of champagne. The actress is thrilled about the home video release of the film so more audiences can witness the magic of two brothers (
Segel and Ed Helms
), the latter's wife (Greer) and the siblings' mother (Susan Sarandon), as they navigate fate and family on one eventful day. "We're all so busy. It's great for people who missed it in the theaters to finally be able to see it. This movie will have a really long life because it's so good."
As director Duplass enjoyed his beer, he told Movie Fanatic a terrific story about how he and his brother Jay obtained the Porsche in the film that Helms crashes into a tree. "The only reason we got to crash that Porsche is because Paramount had four of them left over from making
Dinner with Schmucks
," Duplass said and laughed. "They had leftover Porches!"
When working on a smaller budget film, those are the types of breaks one needs. The Duplass brothers' films are always strong on story and Jeff, Who Lives at Home is no different. The brotherly aspect spoke to the helmer, but is one of many layers to this multi-faceted film. "It's not necessarily just about brothers. It's a very specific film in a lot of ways. There is a lack of cynicism in the movie," Duplass said. "You're exposing yourself where in a lot of ways Cyrus was meant for an astute audience and it was a safer film for me to make emotionally. Jeff has been around for a while. We wrote it five years ago. We've been waiting for the moment when we felt like we were good enough filmmakers to make it."

In the beginning of Jeff, Who Lives at Home, Segel's character expounds on how the message of the film Signs should be one to live by: Fate finds you. Along with several TV screens playing their film at The Basement, one over the bar was playing Signs.

"I love Signs to be honest with you," Duplass said as he glanced at Mel Gibson doing his thing on the screen above.

"I love how bold it is. It is a flawed film, in my opinion, but to go ahead and draw those universal connections -- it has a lot of balls in it. But most importantly, I thought that because all my films start with character, it was the perfect way to exposit a character because I (expletive) hate exposition. So to have Jeff sit on a toilet and talk about how much he loves Signs, you can't be a cynic and love that movie that much. You have to be a believer. I wanted Jeff to not have a cynical bone in his body and hopefully you'll like him because of that. Yeah, he's a stoner and he still lives in his mom's basement, but to a certain degree Jeff is like a hero to me. He has resisted joining society because he believes something great is out there and I love that about him. You can call him a slacker but he has a (expletive) of integrity. He's holding out for the greatness."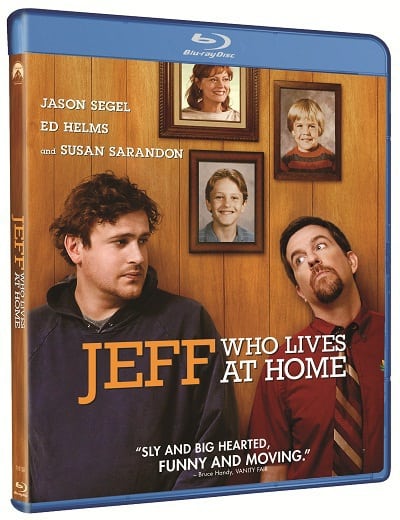 Standing nearby, Greer overhears Duplass and she proudly concurs with her director's sentiment. "I love the message of this movie," Greer said. "Our movie's awesome."
Another round for everyone!

Jeff, Who Lives at Home is out now on Blu-Ray, DVD and On Demand.