John Carter arrives on DVD and Blu-Ray June 5 and now's a perfect chance to revisit our exclusive video interviews with the film's stars including Taylor Kitsch and Willem Dafoe as we explore the ins and outs of the new home video release.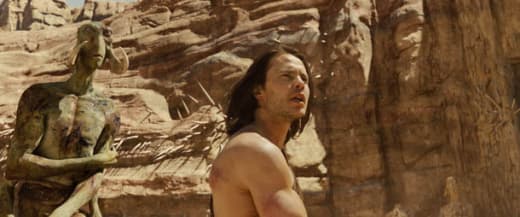 The story of John Carter is based on a world created by iconic author Edgar Rice Burroughs. It was brought to the screen by director Andrew Stanton and his commentary on the Blu-Ray is utterly priceless. The Blu-Ray and DVD combo pack that Movie Fanatic received had some astounding bonus features beyond director commentary.
The highlight has to be the
360 Degrees of John Carter
. This allows the viewer to experience every minute detail of the filmmaking process to further understand how the magic came to be. For fans of the character that has been around for a century, the
100 Years in the Making
feature is a don't-miss. It explores the character of Carter and how he was born on the pages of Burroughs, through his incarnation in graphic novels and now his big screen debut. There is also deleted scenes that enhance the storytelling experience and the
Barsoom Bloopers
are hilarious.
Movie Fanatic headed to the floor of Mars (otherwise known as Arizona) and interviewed the cast and Stanton. Here are our exclusive chats with the talented collective that gave us the world of
John Carter
, now available on Blu-Ray and DVD.
Exclusive interview with screen legend Willem Dafoe:
Exclusive interview with the film's director, Andrew Stanton:
Finally, our exclusive chat with the villain of the film, Dominic West.