Lola Versus is Greta Gerwig's movie, through and through. She was a marvel in Damsel in Distress and is quickly becoming the new face of independent film. Gerwig's Lola seems to have it all. Her graduate studies could not be going better. She's engaged to the man of her dreams. So, what is she battling that the film is titled Lola Versus? When life changes abruptly -- her fiance panics and breaks up with her -- our titular character feels its her against the world.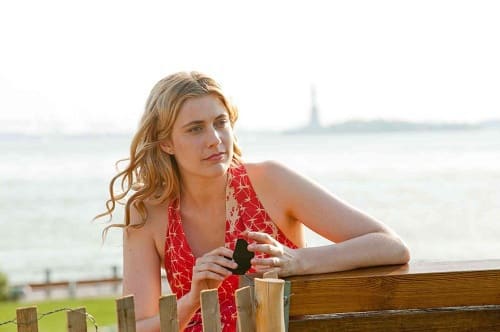 The film follows a year in the life of a 29-year-old woman and the 365 days between being firmly in your twenties and knocking on the door of your thirties. For Lola, it will be the most trying year of her life, but also the one that gives her a firm grasp on knowing herself more keenly than she ever could have previously.
As her former fiance Luke (Joel Kinnaman) wavers on moving forward or getting back together, Lola explores a series of new relationships -- including one with her male friend, Henry (Hamish Linklater) -- that complicates things. You see, Henry is Luke's best friend. As Gerwig's character attempts to finish her graduate work and compose her dissertation, she earns money at her parents' bar/restaurant as a waitress, which allows them to offer parental counsel to their daughter who desperately needs it. It's fabulous to see Debra Winger again, who plays Lola's mother, starring with Bill Pullman as her pop.
Lola Versus
is a compelling story. Anyone can relate to what she goes through and can find inspiration in how she pulls herself out of her sorrow and finds a path towards her future. Gerwig is a superb actress, one we think audiences will be seeing a lot of heading forward. Some expected her to blow up after starring opposite Russell Brand in
Arthur.
But after that film failed to find an audience, her string of independent films will have to slowly introduce her to a wider audience. In movies such as
Lola Versus
and
Damsels in Distress
, we see a quirky charm that makes us wonder when this indie actress will be huge in the mainstream.
Unfortunately, it probably won't be with her latest. Perhaps it will come in Woody Allen's next European adventure, To Rome with Love. We have a huge problem with the third act of Lola Versus and how the film concludes. Not for one minute does Movie Fanatic believe that what happens to Lola would unfold as it does. It is in no way a fairy tale ending, don't get us wrong. It has more to do with where the blame is placed for what has happened to Lola in the 29th year of her life. Gerwig deserves better.