Before you scurry over to the San Diego Convention Center and line up for the Breaking Dawn Part 2 panel at Comic-Con, Twihards, feast your eyes below...
... on the first official promotional shot of Mackenzie Foy as Renesmee!
Entertainment Weekly has given Facebook followers the following sneak peek at the young actress in this vital role, as she stands in between franchise stars Kristen Stewart and Robert Pattinson. Return to Movie Fanatic later today for a closer look at Renesmee and click on the photo now for a larger version: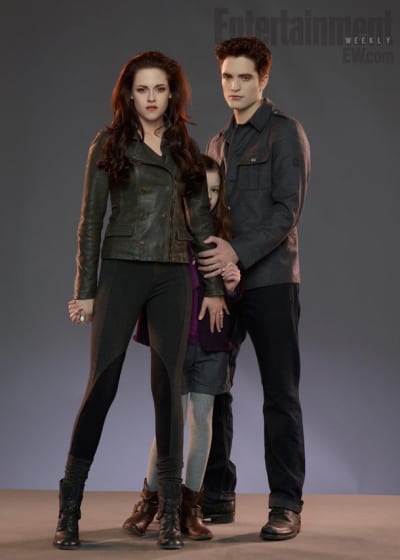 The concluding installment of this franchise will be released on November 16. Expect the publicity push to really pick up this summer and get excited for how it will all end via the first, brief Breaking Dawn Part 2 trailer.
UPDATE: Check out the EW cover with a full shot of Foy standing with Stewart and Pattinson!