Our favorite escapees from the Central Park Zoo are back in Madagascar 3: Europe's Most Wanted. This time out it's not only the James Bond-like penguins who steal the show, the European circus animal trio of Vitaly (Bryan Cranston), Gia (Jessica Chastain) and Stefano (Martin Short) also join the adventure and play a pivotal role in helping our foursome get home. Or do they?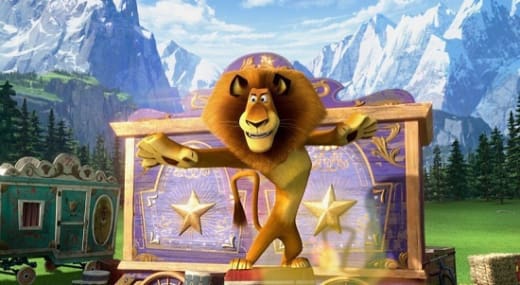 The action begins with the penguins flying off to Monte Carlo from Africa to enhance their riches. Quickly, Alex (Ben Stiller) and the gang realize they're not coming back. The well-dressed flightless birds' makeshift airplane is key to their homecoming. So... they head off to France.
Soon after arriving in the French city, audiences are treated to a riveting chase scene that is mind-blowing in 3D. After trashing a casino, they are tailed by Frances McDormand's Madame DuBois. She is an animal control agent with a wall full of animal heads and seeks to add to her "trophy" wall by catching Alex, Marty (Chris Rock), Melman (David Schwimmer) and Gloria (Jada Pinkett-Smith). Guess that stealth effort to reunite with the penguins in Monte Carlo didn't work so well!
The zoo collective escapes by hopping on a circus train and that is when
Madagascar 3
truly gets going. We first meet Vatily, Stefano and Gia and learn that their business is on its way to utter failure. Since there is a promise of a tour of America that includes New York City if they impress an American promoter visiting Europe, the gang swing into action to bring the hapless circus into the twenty-first century. Along the way, new romances begin (the best is Sacha Baron Cohen's Julien and the giant bear that rides a tricycle), new friendships are formed and life lessons are learned by our main characters: The grass may be greener on the side we're standing on.
On the filmmaking side of things, the directing trio of Eric Darnell, Tom McGrath and Conrad Vernon have crafted a 3D animated film that pops of the screen while still possessing great amounts of emotional pull. The story gets some serious strength from screenwriters Darnell and Noah Baumbach of all people (he penned
The Squid and the Whale
). As such, this is a family film that is delightful for those that are eight... or eighty.
The four leads (Stiller, David Schwimmer, Chris Rock and Jada Pinkett-Smith) are spectacular and all should thank the acting heavens that these roles came along. Each may have some of their best moments onscreen with their animal alter-egos. Meanwhile, Frances McDormand steals every scene she is in -- her Madame DuBois literally explodes off the screen and gives Cruella de Vil a run for her animated villain money.

Adding the European circus and the trio of Cranston, Chastain and Short is also a stroke of genius. Both Chastain and Cranston's Eastern European accents are spot on, and if Short's Italian lilt doesn't instantly make you laugh, I don't know what will.

Those behind Madagascar 3 have saved the best for last. It is magnificent and the best animated movie we have seen this year.