Channing Tatum's life story, at least one small part of it, is coming to life on the big screen in Magic Mike. The budding superstar sat down with Movie Fanatic to talk about his hopes for Magic Mike and how his time stripping in real life contributed to achieving his dreams as an actor and dancer.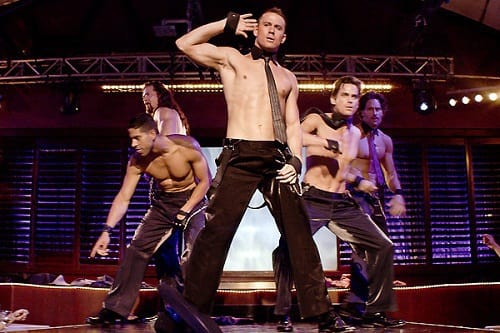 Tatum lets us in on how he made his way from male exotic dancer to actor as well as how filming
Magic Mike
was different than any other experience on a movie set. For one, his co-stars (check out our
Matthew McConaughey interview
) all cheered for one another as they each filmed their dance scenes.
Movie Fanatic:
What was your ultimate goal in making
Magic Mike
?
Channing Tatum:
I just think we're trying to do our part to objectify men [
laughs
], for the first time, in movies.
Movie Fanatic:
What do you think the message of this film is? As it is a Steven Soderbergh film, it has to have a message.
Channing Tatum:
You have the dreams that you want, and then you have to do other jobs until you can get to that dream. Mike, and a lot of these guys, just fell into this thing and it was fun, and then years just ticked on -- as the party was happening. All of a sudden, it's seven years later and you're like, "Wow, I don't really have very much to show for it. I'm not any closer to my dream." At some point, the party just got in the way and became your life.
Movie Fanatic:
Were any of the women playing extras ever a little
too
into it?
Channing Tatum:
You've gotta commit. They were there for awhile and they became our friends. You'd get off stage and they'd be like, "That was a really good one!" They were so bad with Matthew that I was like, "Man, did I not bring it?!" The women lost their minds, and we didn't instruct them to. Matthew brought them right in. As Dallas says, "You've gotta bring 'em in! You've gotta connect to every single one of them!"
Movie Fanatic:
Was there any apprehension about visiting this part of your life onscreen now that you have moved far away from it, literally?
Channing Tatum:
My wife married a stripper, so she knew what she was getting into and she made that a prerequisite for the marriage. I just personally respect everyone for jumping into the thong with both feet and out onto the stage because I've done it before, and it was still nerve-wracking for me. Everybody just committed. I wish we had time in the movie to show everybody's dance because everybody worked so hard on them. It's a humbling thing to get up there, where you're left with very little to the imagination, in front of almost 300 people. It's very, very nerve-wracking.
Movie Fanatic: How was filming this movie (check out the Magic Mike trailer) different than any of your others?

Channing Tatum: With most movies, when you're done with your scene, you go home. You're like, "That's it! I'm good! I'm gonna go home for the day." That's not what happened. You wanted to see them do their routine and do it well. Every time that anybody came off stage, you went back and high-fived them and told them what really worked. You were just like, "You murdered that!" It really became a very weird, strange team.

Movie Fanatic: How do you think stripping led you to acting?

Channing Tatum: I was 18 years old. I had worked three jobs and stripping was just one of them. I really liked to dance, obviously, but I didn't really love taking the clothes off. The world, in itself, was just a very dark world. I really enjoyed performing. It was probably my first performing job, ever.