"Final Line Advection." No, it's not a type of new oven. It's the breakthrough animation technique Disney used to create Paperman.
The new technology combines computer graphics with 2D animation to create a unique style--half callback to hand-drawn cartoons, half modern spectacle.
The black-and-white animated short will play ahead of Wreck-It Ralph in theaters (check out the Wreck-It Ralph trailer). It features a man who pines after a woman he had a chance encounter with during his morning commute. After seeing her again in the skyscraper across from his office, he uses a stack of paper to get her attention.
Check out three new stills from Paperman, courtesy of EW (click the thumbnails to enlarge):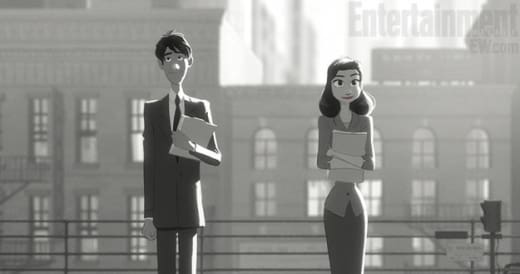 Paperman will hit theaters with Wreck-It Ralph November 2. In the meantime, Disney's newest 3D animated film from Pixar, Brave, is in theaters now.