The last time Penelope Cruz hooked up with Woody Allen, the Spanish actress won an Academy Award for Vicki Cristina Barcelona. She's back with the auteur in To Rome with Love, portraying a Roman prostitute who winds up pulled into a romantic folly that is one of the film's more hysterical storylines.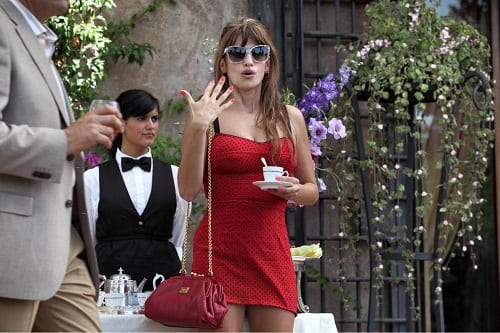 Cruz sat down with Movie Fanatic to talk about the finer points of Allen as artist and friend. The Oscar winner also takes us into the process that Allen utilizes which has produced some of the most heralded movies of the last four decades.
"I've been a fan of his work since I was a little girl," Cruz said of Allen. "I was very happy first of all to meet him, to be able to spend time with him. He makes me laugh all day long. So I feel like the luckiest girl, you know. I can spend time with him, and I also get to be directed by him, and he trusts me enough to give me his beautiful characters. The only thing is it's always too short, because both times I worked with him I did it in three weeks. So I always want more."
She reported that the creative process with the filmmaker is one that gives his performers complete authority to explore their character in the effort of finding perfection. "He gives all this freedom which is very liberating. At the same time it feels like a big responsibility because you don't want to ruin anything, especially when you are working in a different language. In
Vicky Cristina Barcelona
with Javier (Bardem) and I, he gave us the scene in English and asked for us to translate it however we wanted to, the way our characters would speak. We didn't know if he was going to be angry with that," Cruz recalled. "When he got the translation of what we were saying, because we were swearing every three words, he was happy afterwards. He gives us a lot of trust, a lot of trust to the actors."
Even though there is not much of a backstory for Cruz's To Rome with Love character, she sought insight in the most interesting of places. "I was looking around in some parties in Cannes looking for inspiration," she said and laughed.

"You know different places. We didn't talk about any particular woman. It was just there on the page, and I created this Anna, a woman who everything she thinks comes out of her mouth. She doesn't have a filter, and I love that, because she's the opposite of what I am. I want to be like that, but I am much more of a control freak. So I love playing characters that are so free and do and say whatever they feel every day of their life. It's very refreshing to play someone like that."

Cruz is incredibly pleased with the final result upon witnessing To Rome with Love, and it sounds like the actress is buttering up the director for her next role in his films.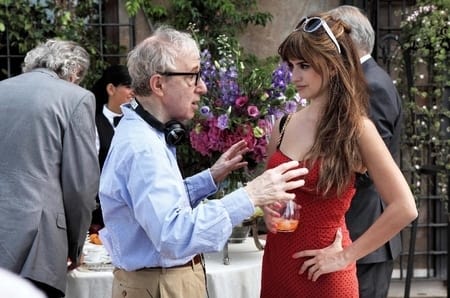 "I loved the movie. I've seen it twice now, and I love it. It made me laugh so much, and I can't stop thinking about the guy who can only sing in the shower. It's one of Woody's best performances. He makes me laugh so much in this movie," Cruz said. "His face when he's listening to him singing is priceless. I can't take that face out of my brain. It's great."