People Like Us Exclusive Interview: Director Alex Kurtzman Gets Personal
by Joel D Amos at . Comments
People Like Us creator Alex Kurtzman, after writing Star Trek and Transformers, got a little more personal with his latest project with co-writers Roberto Orci and Jody Lambert. The film was a perfect vehicle for his feature film directorial debut as it deals with a story that is painfully real to the helmer.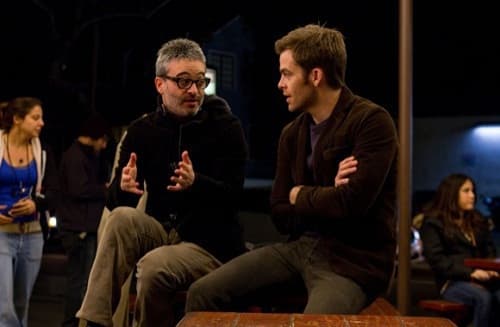 Kurtzman met Movie Fanatic for an exclusive interview to explore his new film, and he talks about what stars Chris Pine, Michelle Pfeiffer and Elizabeth Banks invaluably brought to the project as well as what's next for him: Think
Spider-Man
sequel!
With the film now being released on thousands of screens June 29, Kurtzman is full of mixed emotions. It is a truly personal story of what happened when he discovered he had a sister at the age of 30.
"I'm feeling a rainbow of different emotions. It's just weird that we got to this place. I still can't believe it. It's still a little bit out of body. It's been such a personal journey and now we're giving it over to the world and that's kind of a big thing. I'm really nervous. But, I'm also really excited," Kurtzman said.
The filmmaker was struck with how resonant this story is proving to be. "Chris (Pine) and I were in Atlanta screening the movie for an audience, and as we were leaving the theater, a woman grabbed my arm and said to me, 'I just need you to know that I met my brother recently and I didn't know about him and I rejected it completely. I just saw your movie and I just realized I can't do that.' I was so moved by that. I feel like that, to me, is the gift of making a movie like this."
His film (check out the
People Like Us trailer
) took eight years to bring to the screen, all because of an effort to tell his story, but ensure it's still entertaining and powerful for audiences.
"It was also just a separating of truth from fiction because a lot of it did happen to me. I met my sister when I turned 30 but my story's nowhere near as crazy as the movie. So you're fictionalizing a lot of stuff and yet you're speaking from an emotionally autobiographical place," Kurtzman said.
"Figuring out how to take the emotional component and translate it to certain plot elements that don't betray that emotion took time. It wasn't immediately apparent how to do it. There was something about collecting the details that I observed around me that I think I could not have done if we were doing it on a clock."
Key to the success of
People Like Us
is the casting. Kurtzman scored with Pine, Banks and Pfeiffer. He reported that the sibling chemistry achieved by his leads (
Elizabeth Banks and Chris Pine interview
) brought his own story to cinematic life.
"The thing about Chris and Elizabeth is that they're both so wildly talented, and they both dedicated themselves completely to their parts, digging as deep as possible to get there. There's something very magnetic about the two of them individually," Kurtzman said.
"Those two are so talented that honestly, more than half the time my job was just to say, 'Let's go again,' and see what else they did. I felt it during rehearsals that there was something very spectacular going on between them. They were so graceful and generous in what they gave of themselves in these parts, and the more they slipped into that, the more that electricity came out on screen."

And then there's Pfeiffer, who plays Pine's mother. "I didn't know what to expect when I heard she was interested. I met her, and within one minute went, 'There's nobody else who can do this.' She is amazing," Kurtzman added.

Next on Kurtzman's plate is penning the sequel to The Amazing Spider-Man. "It has been a blast," he said.

"Getting to do Spider-Man is like letting your inner kid play again and it's been really fun. I'm so impressed with the new movie. I think it's fantastic and I love everyone involved, across the board. The actors are brilliant and wonderful and great people. The producers are amazing and Marc Webb is a genius, so we're just having a great time."