Ridley Scott, after years of buzz, is ready to have the world see his Prometheus. The titular ship could be a metaphor for the filmmaker's journey. He took great pains to create it and now the stomach butterflies are turning as it is ready to take off in this "prequel" to his classic Alien.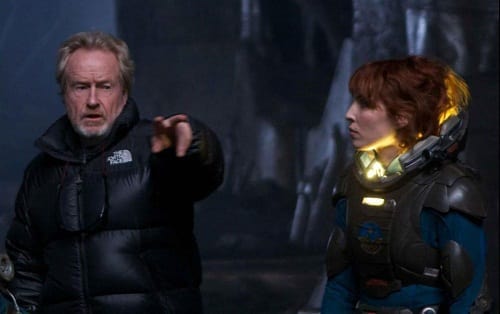 As
Alien
was a horror movie that was wrapped in a science fiction blanket (What are the
Top 10 Sci-Fi Films of All Time
?), when it comes to how
Prometheus
stacks up, Scott simply feels as a filmmaker you have to keep it general. "The bottom line is just to make a good movie. Just make a (expletive) good movie. It's got nothing to do with horror or whatever. That's why there's only a few really, really great ones. Thereafter, there are only evolutions of copycats," Scott said.
There are two that still get Scott to this day. "One was called
The
Texas Chainsaw Massacre
by Tobe Hooper. I knew I didn't really want to go see that movie, just by seeing the (expletive) poster. But, eventually I had to, as research for
Alien
. The other great one, with a single idea, was the first
Exorcist
. Possession of the body by a demon was marvelous. Since then, there have been 900,000 clones of those ideas."
With expectations so high for
Prometheus
, Scott admitted that he went obsessive over the details. "You think about everything, down to the shoe laces. We even had a big argument about the globular helmets. I was certain that I wanted the fully spherical glass helmet," Scott said. The filmmaker won the argument over the helmets when he referenced a biography about a technology titan.
"In my research, I read this biography on Steve Jobs' life and he talks about how he wanted to make his entire office of this glass, which is called Gorilla Glass, and this guy said, 'We don't make it anymore.' So, Steve Jobs actually then re-opened up the factory and started remaking Gorilla Glass. If I'm in 2083 and I'm going into space, why would I design a helmet that has blind spots? What I want is something where I have a 360 view. Glass, by then, will be light and you won't be able to break it with a bullet."
Another connection between Alien and Prometheus is the rather replicated brilliance of a droid at the center of the story. The first film had Ash (Ian Holm) and in Scott's latest, it's embodied by Michael Fassbender, who is brilliant as David. The director did not see making David too flashy as the concept has been around for centuries. "There's nothing new about a robot. That idea is 800 years old. So then, embrace what it is. By embracing it, he becomes that much more interesting because he's just part of the ship. In a sense, he's not just butler, but he's housekeeper and maintenance man, who legitimately does not need to sleep," Scott said.

Having that starting point allowed him to have some fun with the droid and the character ensemble. "From that, then he also becomes extremely useful during the story, as it evolves. There's a great scene where Holloway (Logan Marshall-Green) is actually a bit of a bitch, occasionally, and says, 'Hey, you, boy!' to him. I thought that was real cheeky. And then, he says, 'Why are you wearing one of those suits? You don't have to breathe.' It ends up with David saying, 'Not too close, I hope,' referring to being told, 'We're making you guys just like us.' You don't know who's insulting who there! That's when those turn-abouts start to occur."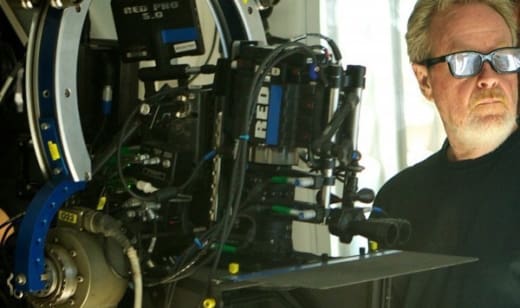 Although technology has greatly improved for a filmmaker, Scott admits that it doesn't necessarily mean the process has gotten easier. "It's easier to carry it out, but it's still as difficult to write something," Scott said. "In fact, it's getting more difficult because there are almost too many movies being made."