Either there's some sort of sandstorm, or Vin Diesel is trying to hide the fact that he broke character and started laughing. Check out the new still from the action star's upcoming film Riddick, which Diesel shared on his official Facebook page.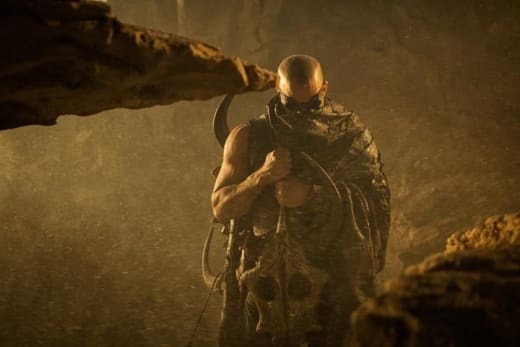 Diesel also commented that he has seen a cut of the film, and he apparently loves it. But how surprising is that, really?

Riddick is the third installment of the Chronicles of Riddick series starring Diesel as the bad-ass monster-fighting alien prisoner. This film picks up where The Chronicles of Riddick left off, with Riddick left for dead on a desolate planet, where he must fight alien predators. Katee Sackhoff and Karl Urban (Dredd) also star.
Diesel has spent the large majority of the 21st century making Riddick and The Fast and the Furious films. Fast and Furious 6 will hit theaters next year, with Riddick also set to come out some time in 2013.