Arriving at the Sony Pictures Animation headquarters, one might think that the area could double for Dracula's homeland the way the place is decked out. We're here to check out some never-before-seen clips from Hotel Transylvania and to visit with the exploding superstar that is the film's young protagonist, Selena Gomez. The event is billed as her character's 118th birthday celebration and we got to catch up with Gomez and check into Hotel Transylvania.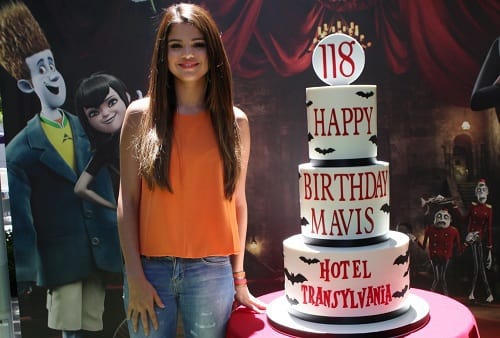 The
Wizards of Waverly Place
star appears as Dracula's (
Adam Sandler
) daughter alongside comedy titans Kevin James, Andy Samberg, Jon Lovitz and David Spade. She is blown away at her name appearing on the same marquee as those comedy superstars. "I am very honored to be a part of this cast," Gomez said.
She got a lot of voice-over booth time with Sandler and found someone who she believes would be a great dad off screen as well as on. "He's awesome and so cool. He was there almost all of my sessions. To me, he would be a cool dad," Gomez added. "Somebody who's really funny and just makes everybody laugh."
Although Sandler's Transylvanian accent is spot on, the young actress did not want to try it. "There is a part where I make fun of my dad in the film and that was hard. I'm definitely not as good as Adam when it comes to that," she said and laughed.
Besides joining a stellar cast, Gomez was also drawn to the chance to still appeal to the family audience that made her career in the first place while still moving into more mature roles. "That's exactly one of the reasons why I did it. I actually, to be honest, am not that great with animation because I feel like sometimes it's harder to act with your voice than to act with your actual self," she said. "But, this was such a great experience. It was a good thing for me to do in that area because I was doing a couple movies that were out of my comfort zone. I felt this was a nice way to go back to that."
She also found that the character was one that had not been explored yet on screen. "That's a lot of pressure to be Dracula's daughter," Gomez said. "There's never really been a story that's been about that and their relationship. I think the way she was structured and the way I read her, was exactly the way I thought it would be."
Once Gomez dove into the part of Mavis, she discovered many similarities between herself and her character. "I'm in that place -- I'm nineteen," Gomez said. "I think I'm going through what she is going through, doing things on my own a little more. I am getting a little bit of that freedom. I'm kinda quirky like Mavis too."

If there is any congruency between her work on Wizards of Waverly Place and Hotel Transylvania with the supernatural, it is pure coincidence. "I guess so. I hadn't thought about that," Gomez said.

But, at the heart of it, both entities involve playing into children's sense of wonder. "I like to bring kids' imaginations to life a little bit. With my show we were able to be invisible and fly and walk on walls. That is stuff that every kid wishes they had the ability to do. We're able to bring that alive and I think that's what we're doing with this movie too."
Hotel Transylvania hits theaters September 28.