Snow White and the Huntsman Movie Review: Charlize Theron's Terrible Tyrant
by Joel D Amos at . Comments
Snow White and the Huntsman is an expertly crafted and beautiful film. Director Rupert Sanders has truly announced his presence with his first feature. And his cast is on their A-game, especially Charlize Theron and her searing turn as The Evil Queen.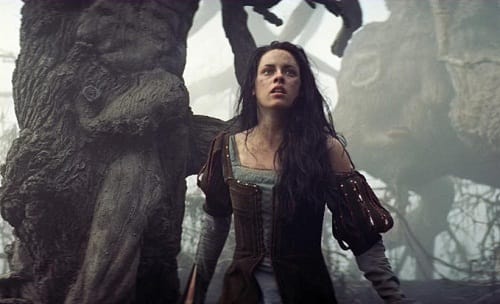 There is only a skeleton of a story that connects our fable to the iconic fairy tale about the battle over being the fairest of the land. The fact that this film only slightly resembles the classic tale is exactly why Sanders' film stands out. Theron must destroy Snow White (a solid Kristen Stewart) in order to keep her reign. She enlists the help of a Huntsman (Chris Hemsworth) to track her down. That is when Stewart swings into action and where our story diverts from its origins.
Theron is an Oscar winner for being a
Monster
and here again she gives a performance that not only embraces the ugliest corners of evil, but has us also thinking about her and that golden statue again. Heck, if Heath Ledger could win for being The Joker, then Theron deserves one for her evilest of royals.
The romance of the film between Snow White and her royal suitor may feel as if it slows down the movie in the second act. But the sparks between Stewart and her Prince Charming (
Sam Claflin
) are what catapults the story into the third act with emotional torque.
Two things really stand out after the film reaches its conclusion. Theron is still making a statement that she is back in a big way. It was four years since we saw her onscreen before she stormed into theaters with Young Adult. Her villain deserves to go down in movie history (who's your favorite film baddie?).

The second most resonant aspect of Snow White and the Huntsman is the arrival of a new filmmaking force in Sanders. His command of his visuals is astounding. And he never sacrifices the need for an emotional pull throughout the film while choreographing some of the most gorgeous action battle scenes we've seen in some time. This Snow sizzles.