For the second straight week, a new film has taken the lead after three weeks of domination by The Avengers. Snow White and the Huntsman topped the box office this weekend, as expected, with $56.26 million in earnings. Kristen Stewart, Chris Hemsworth, and Charlize Theron star in the fantasy retelling of the classic fairy tale that opened on Friday.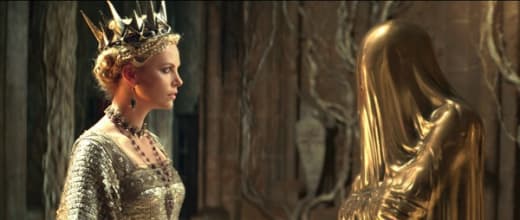 Men In Black 3, meanwhile, fell to number two in its second weekend. The third installment of the sci-fi comedy franchise had a strong opening weekend last week, topping The Avengers after The Dictator and Battleship couldn't, and has a combined two-week earning of $112.3 million.
Chris Hemsworth has the distinct honor of starring in two of the top three weekend films. The Avengers is slowing down but not stopping, as the film continued to score big this weekend at number three, raking in $20.3 million in its fifth weekend in theaters. More importantly, however, the continued success of Earth's Mightiest Heroes has pushed The Avengers to number 3 all time in both domestic and worldwide box office gross.
Battleship and The Dictator round out this weekend's top films at numbers four and five, earning $4.8 and $4.7 million respectively. Check out some Dictator quotes for a look at the Sacha Baron Cohen comedy.
Box Office Top 10:
1. Snow White and the Huntsman, $56.2 million
2. Men in Black 3, $29.3 million
3. The Avengers, $20.3 million
4. Battleship, $4.8 million
5. The Dictator, $4.7 million
6. The Best Exotic Marigold Hotel, $4.6 million
7. What to Expect When You're Expecting, $4.4 million
8. Dark Shadows, $3.1 million
9. Chernobyl Diaries, $3.05 million
10. For Greater Glory, $1.8 million