Witnessing Ted, it can be described in one phrase: Seth MacFarlane unleashed. Considering the envelopes he pushes on his primetime TV hit Family Guy, you may be asking: How far can he go? The thing is with the R-rating that Ted brings, it's not that MacFarlane is pushing every envelope he can. It is more that, as he does on his TV show, the comic genius manages to push the limits of hilarity right up to it being too much, without ever going over the line of taste. His humor, regardless of the medium, always possesses wicked wit, heart and the kind of situational comedy that has audiences going, "Oh, my God, he didn't," all without ever feeling insulted. Plus, he dishes it out evenly, never sacrificing story and genuine emotion.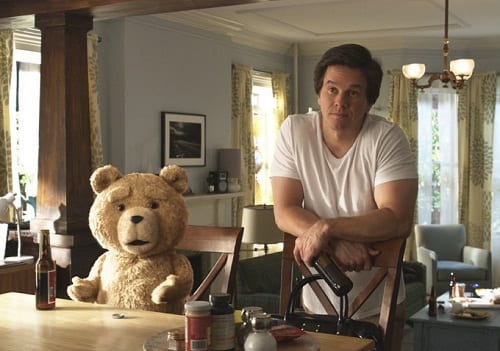 Ted
stars Mark Wahlberg as John while MacFarlane voices the title character -- a teddy bear John received one magical Christmas when he was a lonely young boy. With one wish that Ted was real, John awoke the next day to a live, walking and talking teddy bear… i.e. friend for life!
Fast forward decades and Wahlberg's John is working at a rent-a-car establishment while he and Ted spend their time getting stoned and drunk on their apartment's couch. But, things are starting to change as John is about to celebrate his fourth anniversary with his girlfriend Lori (Mila Kunis). Is it time for John to grow up and ask the foul-mouthed, sex-crazed and fellow
Flash Gordon
-loving teddy bear to hit the road?
MacFarlane not only does the impossible as the writer of the film in achieving one of the funniest films in recent memory, but also delivers in his vocal performance as the titular bear. As fans of
Family Guy
can confirm, the man voices a half dozen characters on that show. His Ted is in that vein, but character wise, feels completely original. It is impossible to imagine any other voice actor playing the part with such panache and fortitude. The filmmaker even can laugh at himself. At one point Ted says, "I do not sound like Peter Griffin!" Well played, Seth.
Ted is reflective of that time in a person's life where childhood ways are let go in favor of meeting adulthood square in the eye, and perhaps, even sharing one's life with an individual that has us looking forward instead of nostalgically back. Ted has eons of soul that one would not expect of a raunchy, foul-mouthed comedy. Evidence of that is handled with the navigating of the relationship that exists between Kunis and Wahlberg's characters.

The pair are uncanny together and despite the audience having an utter adoration for Ted, they are too pulling for these two lovebirds to make it work. John tries repeatedly to meet Lori's expectations of him, but somehow Ted riotously interferes. How MacFarlane weaves this web and never forgets to have his viewers falling out of their seat laughing, is a marvel. If Ted is his first cinematic demonstration of this talent's abilities on the silver screen, Movie Fanatic believes he has the potential to eclipse previous funny film facilitators such as the Farrelly brothers and Judd Apatows of the world.