Adam Sandler does not pull any punches when it comes to his first R-rated movie in a decade. The film recalls the humor of Sandler's stand-up rather than his PG-13 films of late. Toss in the comic chemistry between the recently departed from Saturday Night Live comic Andy Samberg, and solely for those two reasons above, the film is worth seeing.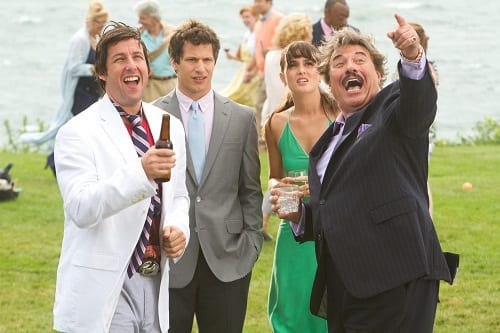 Sandler is one of the most bankable stars in Hollywood. He is also one of the only comic forces in Tinseltown who can open a movie overseas. So, why change a formula if it's working? In the case of
That's My Boy
, Sandler does change his formula, if only by the most minute of amounts… he lets his characters curse. The comic actor doesn't make films for the broad audience. His fan base, who adores his work, will find his latest one of his greatest. The rest of the audience will still scratch their heads wondering as to the funnyman's appeal.
Sandler plays Donny Berger, who at the tender age of 15 had an illicit affair with his teacher that resulted in her getting pregnant and being sent to jail for statutory rape. Berger takes in the kid and in the process becomes a 1980s celebrity rubbing elbows with Vanilla Ice, Corey Feldman and Corey Haim. Then, as fame was as fleeting for those three, it too is for Berger and he finds himself in 2012 owing back taxes to the IRS and having a son (Samberg) who will not acknowledge his existence. When Donny sees his son on the cover of a local magazine being triumphed for his financial business wizardry and pending nuptials to Leighton Meester's Jamie, Sandler sets out to crash the wedding and rekindle their relationship.
Samberg and Sandler are an impeccable comic pair. Watching Samberg's disdain turn to what we can't tell you without giving away too much is proof that this performer is well on his way to screen success. And would you believe it if we told you that the other facet of this film that works impeccably well is the screen presence of Vanilla Ice? He mocks his persona and, in the process, creates some hysterical moments.
As Sandler has been known to do, the most unlikely stars show up in his movies to take their stab at the SNL vet's movie mayhem. In That's My Boy, audiences get a "comeback" for Tony Orlando, James Caan and even Todd Bridges whose appearances are with varying degrees of success. Despite all the comedy firepower from the leads and his cast of crazies (including regular Sandler actor Nick Swardson), the one who steals the comic thunder is former Heroes star Milo Ventimiglia. His characterization of Chad, the brother of Meester's Jamie, is legendarily hysterical.

Although That's My Boy is a departure for Sandler in that its raunchiness factor is pushed further than ever before, Movie Fanatic is afraid that only fans of the comedian will still find his Boy-ish humor funny.