Marc Webb had a tough task bringing Spider-Man back after such a short break. Composing this The Amazing Spider-Man review is tricky given that fact. But, given serious thought, it is not quite as difficult knowing how much heart and soul the filmmaker poured into making his first big budget film. Although there is not much that is terribly different than Sam Raimi's first go around in the Spider-Man world, Webb's version exceeds Raimi's on many levels.
Movie Fanatic has trouble calling this film a reboot as it is honestly more of a remake. But with a much better cast of players, action sequences that far surpass the 2002 origins story and a villain that feels more personally pertinent to Peter Parker (Andrew Garfield)…
The Amazing Spider-Man
is one fine film.
Webb's film begins in similar fashion. Parker is a high school outcast who is good with a camera, has a crush on school beauty Gwen Stacy (Emma Stone) and is a soul still haunted by the disappearance of his parents when he was a boy. He lives with his Aunt and Uncle (Sally Field and Martin Sheen) and seems destined for a life of parental mystery and mediocrity.
He discovers a briefcase of his father's while going through the basement and his fate begins to change. He visits Oscorp to investigate his father's connection to the establishment and its leader Dr. Curt Connors (Rhys Ifans). There he meets Stacy, a lead intern for the company, who is immediately intrigued by Parker's persona and his cunning smarts. It is also on this fateful visit to Oscorp that he is bitten by the insect that will turn him into Spider-Man.
Another beat that is the same in both films and should be there given its importance in the Spider-Man mythology -- is the tragedy that befalls Parker's uncle. With his newfound Spidey powers, Peter evolves into "the vigilante known as Spider-Man" as Captain Stacy (Denis Leary) calls him.
But, what is incredibly unique to
this
story is the complications that arise from Peter's courting of Gwen, given that Captain Stacy is her father. The police captain is equally the father figure Peter has been searching for, and the foil to his nightly exploits saving the city from bad guys.
Stone and Garfield have sizzling chemistry as evidenced in
The Amazing Spider-Man trailer
.
Their relationship is much more compelling than that MJ-Peter Parker romance from Raimi's films. Perhaps it is because both are better actors or the love story is flushed out more effectively. Regardless, what also works is their love story isn't the driving force of the film, as it was in the first trilogy.
The Amazing Spider-Man
is a film about Parker and it is solely his journey that compels audiences throughout the almost two hour flick. Garfield could not have been more perfectly cast as the title character. He exhibits the humor that is quite present in the comic books and the actor adds emotional layers to the Peter Parker/Spider-Man duality that the role honestly requires.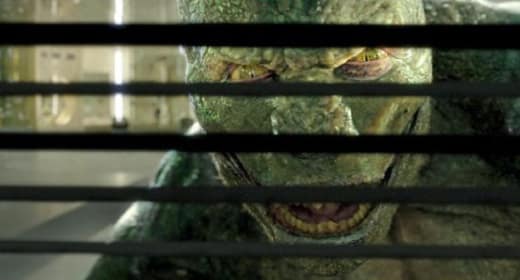 We adore Willem Dafoe, but when Ifans becomes The Lizard and the Spider-Man versus Lizard battle ensues -- as seen in these 
The Amazing Spider-Man clips
-- the good versus evil dynamic has much more power than it did in the 2002 film. Because Dr. Connor worked closely with Peter's father, there is an empathy for his foe that forces our hero to at once try to eradicate the city of The Lizard, while simultaneously trying to help the man who may hold the answers to the secrets of Peter's parents' disappearance.
Webb deserves some serious credit for stepping into this franchise so soon after Tobey Maguire hung up his suit. He has crafted a story that many will feel is too similar to Raimi's. At its heart, this is an origins story and that is inescapable. Similarities are to be expected. It is what Webb does with the story, and his most expertly cast group of actors, that the filmmaker gives us a Spider-Man that is truly amazing.