Three new stills from The Great Gatsby show off the glamorous 1920's style Baz Luhrmann was able to recreate for the upcoming film. Click the thumbnails to enlarge.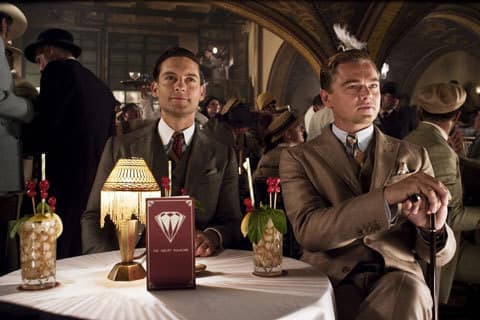 The Great Gatsby, an adaptation of the 1925 F. Scott Fitzgerald Novel, is all about the illusion of happiness that wealth can afford. Luhrmann seems to have nailed the 1920's high-society style necessary to hit home this idea.
The film stars Tobey Maguire as Nick Carraway, a transplanted Midwesterner on Long Island who becomes obsessed by his wealthy neighbor Jay Gatsby, played by DiCaprio. Carey Mulligan plays the apple of Gatsby's eye, Daisy Buchanan, with Joel Edgerton and Isla Fischer (check out some Wedding Crashers quotes from her breakout performance) rounding out the cast.
The Great Gatsby opens this Christmas, along with another DiCaprio film, Django Unchained. Check out The Great Gatsby trailer for more.