Filmmaker Wes Anderson has a passionate following that awaits his next work with bated breath. He's back onscreen with Moonrise Kingdom and the Anderson legion followed. The film set a per-screen average record at the box office this weekend and look for it to gain even more traction in the coming weeks from word of mouth. For a writer-director whose films truly feel old school, imagine how much fun it was to sit down with Anderson via Skype to talk about his latest triumph as he takes us inside his creative process.
Movie Fanatic:
There is such intricate detail in
Moonrise Kingdom
. Was it more difficult to craft this film than your others?
Wes Anderson:
It took me a long time to write it! I spent about a year trying to get the script figured out. I wanted to get the feeling recreated from my own memories. But, I couldn't figure out how to put that into the story. It was only when I asked Roman (Coppola) to come help me and it took about a month, but it became this amazing script. I think the big thing after that is the casting, particularly finding these two leads. We set aside a lot of time to search for them. We trusted that one day they would walk in the door and they did. I felt with each of them, when they appeared, I had the feeling, "This is it." We got them.
Movie Fanatic:
Why did you set the story of two tweens falling in love and running away in 1965?
Wes Anderson:
My idea is that the movie was set in a moment right before everything is about to change. The kids, their lives are about to change because they are at a threshold moment in their own lives, and the whole country is there too. When these kids are 18, they are going to be in a radically different America. Her house is at a place called Summer's End, and I felt there was a little metaphorical thing going on there.
Movie Fanatic: Moonrise Kingdom feels extremely personal...

Wes Anderson: I remember what it felt like to feel like you were in love at that age -- how overwhelming that was, how blindsided I felt by that. It made real life feel like a fantasy at that age. I was hoping we would be able to recreate that.

Movie Fanatic: As evidenced in this film, your filmmaking is quite deliberate. Given that fact, is there room for improvisation?

Wes Anderson: Usually, I'm not one who has actors improvising lines in my movies. But, I feel like they bring the characters to life completely and I'm always kind of surprised what the actors do do together. What I try to do is make the world a new place for the audience to experience. It is also an invented world for the actors to play the scene in and hopefully give them something to work with in their environment.

Movie Fanatic: Speaking of improv and someone who is a king of it... Bill Murray. You've used Bill many times in your career (Rushmore, The Fantastic Mr. Fox, Royal Tenenbaums) and of course Moonrise Kingdom. How does that work with your precise filmmaking style?

Wes Anderson: One of the things I like about him actually is his feeling of anarchy [laughs]. My last film was animated (The Fantastic Mr. Fox), which in many ways is the most control you can have in a movie. You can really always shape it. The whole subject matter had to do with wildness -- that was what I was excited about with that story. That's something that I like about Bill Murray, his wildness. He's also just one of my favorite actors, period. I met him as his fan in the first place. Making a movie is a good place to have allies. You're usually up against something that doesn't want to get done. Bill Murray's someone you can rely on to help you force it to happen.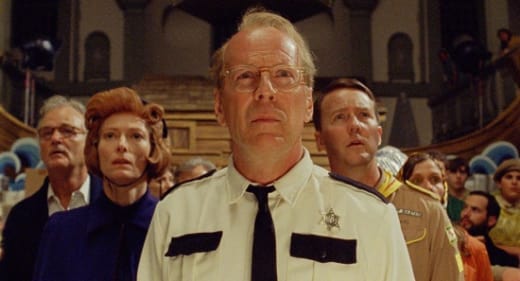 Movie Fanatic:
Your stories seem to inhabit the world of outsiders. Yet, they still feel like ensemble pieces. How do you balance that, especially in
Moonrise Kingdom
?
Wes Anderson:
This movie seems to be about a pack of lone wolves. There are the two main characters, the girl and the boy. The girl is very isolated and in her own family, and the boy has his own issues as he's orphaned. Edward Norton is alone. He's dedicated to this little scout troupe because I don't think he has anybody himself. And the same thing applies to Bill Murray and the Frances McDormand characters. They're together, but appear alone. That always has an appeal to me and I don't know why. I've always been drawn to those kinds of stories.