American Reunion lands on Blu-Ray July 10 and star Thomas Ian Nicholas talks exclusively about how making this American Pie film was a much more enjoyable experience than any other. Don't get us wrong, he adores every second appearing with the cast he first joined 12 years ago. But, since this film was shot on location, it truly felt like an environment to further enhance the casts' already strong bond.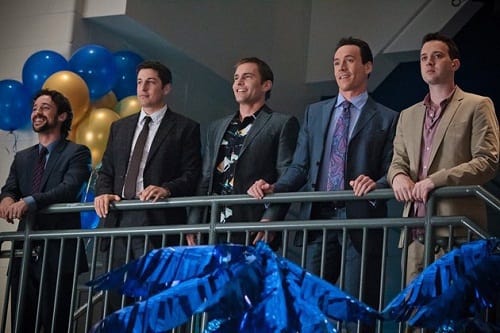 "It was the most fun we've had making one of these films. Instead of doing our own thing on the weekends, we were hanging out with each other. It was more a reunion for us as people than it was for the characters," Nicholas said and laughed.
"I really dig the idea of shooting on location. It gets you out of your own routine and responsibilities at home and puts you in a bubble with everyone. That's one of the things I like most about film versus television is that you have this project that has a beginning, middle and end and it's an entity that exists on its own. You delve into it and emerge on the other side and wonder what just happened."
Nicholas cannot put a finger on why audiences have responded for years to the hijinx of this cast shown prominently on the
American Reunion poster
-- a group that also includes Chris Klein, Alyson Hannigan, Seann William Scott and, of course, Jason Biggs.
"Part of it is a lightning in a bottle thing to be a part of that. It's always easy to look at something that is or has some success and dissect what it was. The only thing I've ever noticed from the beginning -- and I noticed it the first time I read the script for
American Pie
-- was that the script had heart," he said.
"To me it seems it's the one thing that was maintained throughout the films that sets it apart from other teen gross-out sex comedies and why we get away with so much. We have that juxtaposition with crazy things happening and heartfelt characters."
Working with the Weitz brothers on the first film mirrored their experience working with two directors -- Jon Hurwitz and Hayden Schlossberg -- on the latest film, one that has given us so many cherished
American Reunion quotes
.
"Each director has had their own style. The first one was directed by Paul and Chris Weitz. Granted they were brothers but the way that they worked together was in a very similar nature to the way that Jon Hurwitz and Hayden Schlossberg worked together," Nicholas said. "Having two directors again was also a bit nostalgic."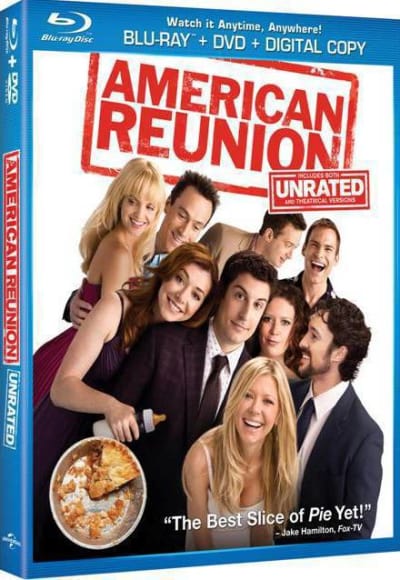 What he enjoys most about portraying Kevin all these years is that it allows the actor to be the straight man, something cherished in comedy.
"There's a lot of things I appreciate about him. I also appreciate the fact that he really doesn't have to do a lot of the embarrassing stuff in the films," he said and laughed.
"I guess also that he's the straight guy of the comedy group, which in my mind is one of the most important aspects of a comedy group, but often one of the least appreciated. But I really value that about Kevin. It's kind of like the straighter I play it and the more serious that I am, the more outlandish characters like Jim (Biggs) or Stifler (Scott) can be."