Breaking Dawn Part 2: Robert Pattinson, Taylor Lautner & Kristen Stewart on The End
by Joel D Amos at . Comments
You can forgive the stars of Breaking Dawn 2 for being a little giddy on the beginning of their swan song for the end of the Twilight Saga. "We've always had that relationship," Taylor Lautner said to Robert Pattinson, when asked about if Jacob and Edward Cullen become friends in Stephenie Meyer's final chapter.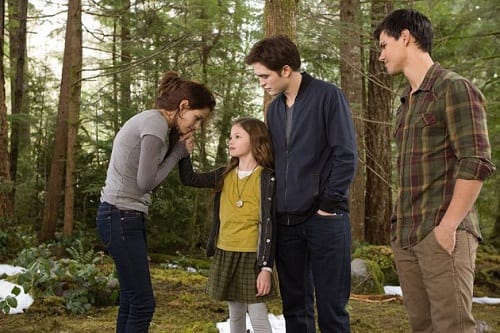 "Yeah, I give him my daughter," Pattinson jumps in. "I sacrifice my daughter to him!"
"That is love," Lautner responds.
"That's true love," Pattinson said and laughed. "Basically, this one is a love story between Edward and Jacob."
We're catching up with Pattinson, Lautner and Kristen Stewart at Comic-Con, moments before they would reveal the
first seven minutes of
Breaking Dawn Part 2.
They gave us a little inside taste of what's to come when the movie debuts November 16.
It was Comic-Con 2008 when the phenomenon became one. "The first one was genuinely frightening. I don't think any of us had experienced a crowd that large," Pattinson recalled. "It's strange. But, then you get used to it surprisingly quickly. You have a persona that develops. I think this is fun just walking around in a haze with people screaming at you."
When it comes to figuring out why the series even became the sensation it is, Lautner believes it begins and ends with Meyer. "All the credit does go back to the books and the characters that she created. That's where it all started," Lautner said.
"We're extremely honored to be in the situation to bring those to life, but the characters in the books are what these fans fell in love with. How they relate to them, I have no idea. But, I do know that's where it began… Stephenie Meyer."
Stewart, although ready to move beyond her
Twilight
years, clearly knows the experience was once in a lifetime. "It is funny. If you told me tomorrow that we had to have reshoots of some scenes that they weren't happy with, I'd be so happy that I'd start vibrating because I do really enjoy playing this role," Stewart said.
"We got to do it for four years. When you do that, even though it is a bummer to walk away, I look back on it so fondly that I hold it and it's something I'll always have. I'm really thankful for that."
Stewart believes that the way director Bill Condon has wrapped up the series is profound, as teased in the
Breaking Dawn Part 2 trailer
. "By the end of the movie, it's so abundantly satisfying, sweet and ideal," she said. "It just feels good, like it should end."
Lautner feels that if the film series wraps up brilliantly, it is largely due to Stewart's performance in the final film. "We were all boring. Kristen has done such a good job, over this whole franchise, at playing the perfect awkward, clumsy, relatable girl," Lautner said.
"Now she's, all of a sudden, just transformed herself into this sleek, sexy vampire, and it's a completely different person. It was very impressive for me to see, and I think the fans are going to be blown away as well."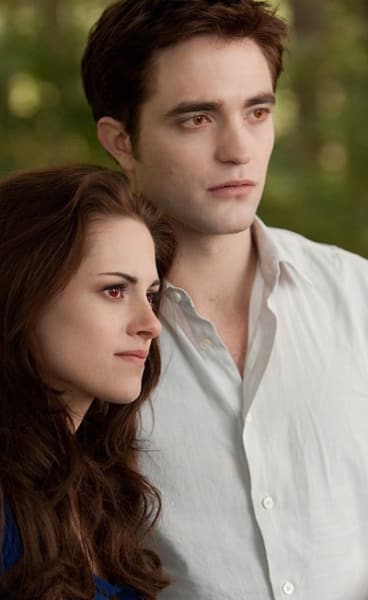 Stewart is confident fans will cherish the end, even if it is bittersweet. "I hope it doesn't sound really arrogant, but we do really cool things with the ending. I think Bill was the perfect person to direct the fourth book, even though it's two movies," Stewart said.
"Bella is a vampire. Her human aspects are gone now. It's always been something that's rooted the story, and I was nervous going into it. Now that she's a vampire as well, it might just seem a little bit hard to grasp. I was worried about there being something to hold. And he totally did it, I think. With the end, I think audiences expect something very emotional that's a bit of a wrap-up, and I've seen it four times now and I've cried every time. It's so cool!"