The first still from the upcoming science fiction film Elysium features a fully-bald Matt Damon wearing a metal arm thingy (official name) and wielding a giant gun.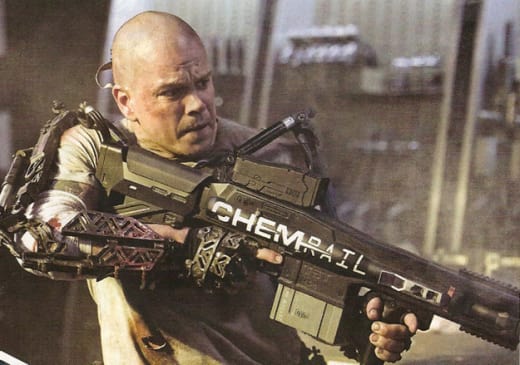 Elysium takes place in 2159, where all the world's wealthy have embraced bio-genetic engineering and moved onto a pristine space station called Elysium. Earth has been left a wasteland, overpopulated by the rest of humanity, and its citizens will stop at nothing to gain access to Elysium.
Damon plays Max, an ex-con who is cornered into agreeing to bring peace and equality to the two disparate worlds. Damon has become something of an action star with the Bourne series (which is being continued without him in The Bourne Legacy), though he was thrust into stardom with his 1997 dramedy Good Will Hunting. Check out some Good Will Hunting quotes.
Jodie Foster, Alice Braga, and Diego Luna also star, with Neill Blomkamp directing. Elysium hits theaters March 1, 2013.