Elysium Interview: Matt Damon & Jodie Foster on Futuristic Thriller
by Joel D Amos at . Comments
Director Neill Blomkamp (District 9) has the most intriguing of concepts centering his next film. His Elysium stars, Matt Damon and Jodie Foster, landed at Comic-Con and told Movie Fanatic and iamROGUE.com as much about it as they could. You see, the film about a futuristic world where the rich all live on a luxury space station while the poor and middle class fight over the scraps that is otherwise known as modern life on Earth, is surrounded by secrecy.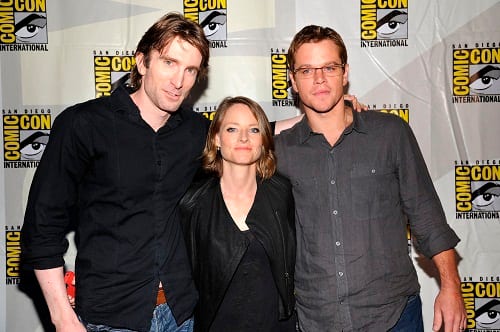 "It's a tough trick to be able to create an intelligent movie that has socio-political commentary, and also has the emotional and moving stuff, at the same time. That's something that Neill does," Foster said of the film's subject.
She promises fans of Blomkamp's previous effort, with its great
District 9 quotes
, will find a whole new world. "This film is very different than
District 9
, and addresses some of those issues in a very different way, but they share that mixture of sensibilities."
Damon stressed that
Elysium
is still meant to take audiences away. "I think it, first and foremost, will be really entertaining and really work on that level. It certainly has a lot of relevance," Damon added, although he does stress that current events find congruency in the film.
"Funnily enough, the whole terminology of the 99-percent and the 1-percent wasn't even there when we started. I just remember Neill, the first time I met him, said, 'I grew up in South Africa and I immigrated to Canada when I was 18. And to go from the third world to the first world, at that age, absolutely changed the way that I look at the world.'"

Although there are similarities between our current world and the future we're heading for, Foster and Damon caution this isn't necessarily what Blomkamp believes is our destined future days. "Well, I probably won't be here," Damon said and laughed. "I don't think this would be Neill's vision of what the world would really look like in 140 years," Damon said. "This is just a dystopian fantasy."

Foster concurs.

"There are lots of futurists that spend their whole life trying to figure out who we're going to be in 40, 50, 60, 100 years. That's the great thing about science fiction. When you look at The Matrix, 15 years ago, I feel like we're living that now. Obviously, it's allegorical, so they took it to a different extreme, but we are plugged in and living virtual lives, and have all of our connectivity done virtually," Foster added.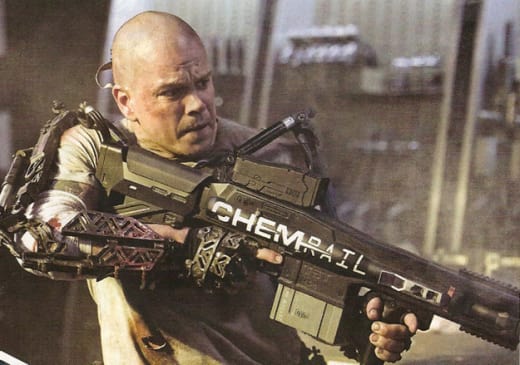 Regardless of how
Elysium
is received (Blomkamp's last film earned a Best Picture nod), Damon feels he has grown as an actor and as an individual simply by working with the man.
"A lot of it was really interesting. Every time I work with a great director, I just learn a lot. The level of detail that Neill had gone into was just really great," Damon said. "I feel really lucky. After I saw
D9
, Neill immediately went to the top of the list of people that I wanted to work with. I feel lucky that it came around so quickly to me."
Foster simply heard that the director of one of her favorite films was making
Elysium
and immediately threw her hat in. "I saw
District 9
and I jumped up and said, 'This is a perfect film. I want to find this guy.' That's actually what happened," Foster said. "A little bit after that, I saw the script for
Elysium
and, lo and behold, there was a role for a woman. I was like, 'It sounds good to me!'"