Marilyn Monroe continues to fascinate audiences decades after her death. The icon is getting the special Blu-Ray treatment with a seven-disc release entitled Forever Marilyn. Movie Fanatic received the set and could not recommend it enough and on several levels.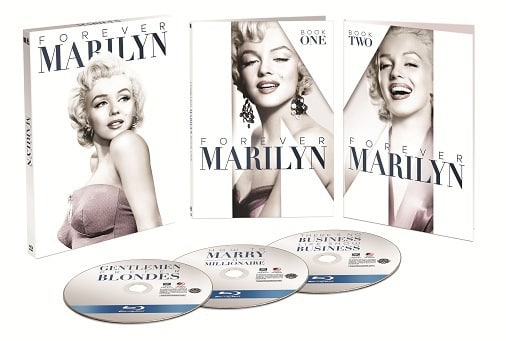 First of all, there are the films included:
Gentlemen Prefer Blondes
,
How to Marry a Millionaire
,
River of No Return
,
There's No Business Like Show Business
,
The Seven Year Itch
,
Some Like it Hot
and
The Misfits
. Imagine having all seven of those films in one box set? You can, as the
Forever Marilyn
set is out today from 20th Century Fox and MGM.
Packaged in a two-book series, this has got to be the most definitive collection of Marilyn Monroe gathered in one package. The seven films chosen are not only her best, but also do an outstanding service to her legend by showcasing the multi-talented performer. From Westerns, musicals, drama and comedy… she did it all.
And don't get us started on the stellar Blu-Ray conversion. These classic films have never looked or sounded as good as they do since the films debuted.
The set marks the fiftieth anniversary of her untimely passing with panache and style worthy of the icon portrayed so effortlessly by
Michelle Williams in My Week with Marilyn
.
Here is a quick summary of the super seven Monroe films included in
Forever Marilyn
:
Gentlemen Prefer Blondes
Two singers, best friends Lorelei Lee and Dorothy Shaw, travel to Paris pursued by a private detective hired by Lorelei's fiancé's disapproving father to keep an eye on her, a rich, enamored old man and many other doting admirers.
The Misfits
A sexy divorcée falls for an over-the-hill cowboy who is struggling to maintain his romantically independent lifestyle in early-sixties Nevada.
 Some Like It Hot
When two musicians witness a mob hit, they flee the state in an all-female band disguised as women, but further complications set in.
 How to Marry a Millionaire
Three women set out to find eligible millionaires to marry, but find true love in the process.
Seven Year Itch
The film that gave us what is largely considered Monroe's most iconic picture (below). When his family goes away for the summer, a so far faithful husband is tempted by a beautiful neighbor.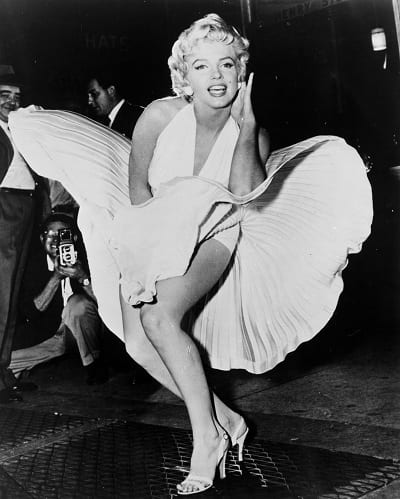 There's No Business Like Show Business
Molly and Terry Donahue, plus their three children, are The Five Donahues. Son Tim meets hat-check girl Vicky and the family act begins to fall apart.
River of No Return
A frontier farmer takes off with his son and a saloon singer after the man who stole his rifle and his horse.