Check out the slick new banner for the upcoming film Gangster Squad: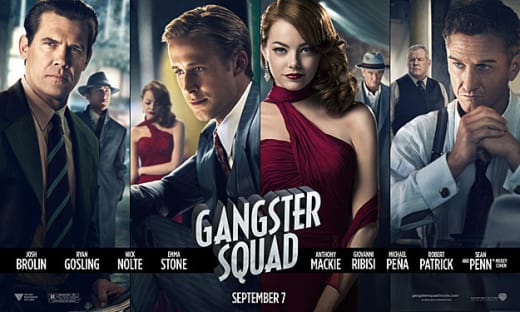 The film stars Josh Brolin, Ryan Gosling, Sean Penn, and Emma Stone (The Amazing Spider-Man). Penn plays Mickey Cohen, a real-life mafioso in the 1940's who moves to Los Angeles, triggering a fight between the east-coast Mob and the L.A. police department.
The poster calls back to a noir style that perfectly compliments the film's subject matter and tone, which is even more evident in the Gangster Squad trailer.
Giovanni Ribisi, Nick Nolte, and Anthony Mackie (Abraham Lincoln: Vampire Hunter) also star. Ruben Fleischer directs, with a screenplay by Will Beall.
Catch Gangster Squad in theaters September 7.