A few days ago, we reported that a Gangster Squad movie theater shooting scene would be cut from the film, but now Warner Bros. has announced they will push the release date back to January 11, 2013.
The film, originally set to come out September 7, included a scene where gangsters shot at an audience in Grauman's Chinese Theater. The scene was teased in a Gangster Squad trailer that played before screenings of The Dark Knight Rises until Warner Bros. ordered theaters to stop playing the promo following the tragedy in Aurora, Colorado.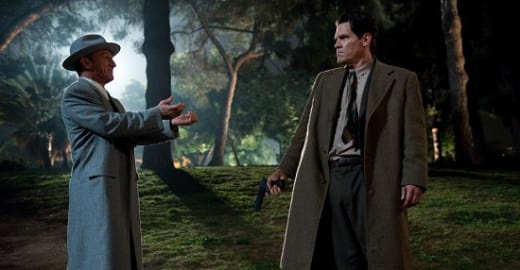 The scene apparently plays an important role in the climax of the film, and thus cannot be cut entirely without being replaced by something else. While Warner Bros. initially planned to do quick re-shoots in order to make its release date, that has apparently proved impossible.
Gangster Squad stars Josh Brolin, Ryan Gosling, Sean Penn, Emma Stone, and Giovanni Ribisi, who made an appearance earlier this year in Ted (check out our Ted quotes page).