As you may have heard, Warner Bros. was caught in an unfortunate misstep following the horrible tragedy in Aurora, Colorado early Friday morning. The studio had some theaters show a trailer for Gangster Squad prior to screenings of The Dark Knight Rises that featured a movie theater shooting scene.
Warner Bros. pulled the promo (some argue not quickly enough), and now plans to remove the scene from the film entirely.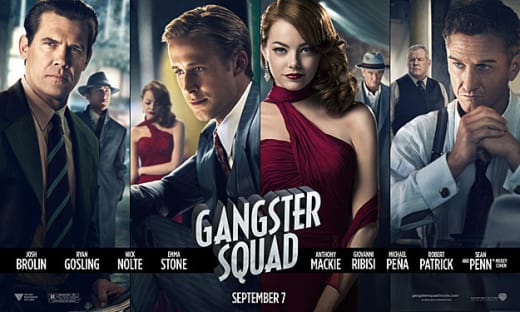 The scene was apparently a rather pivotal one, and they are now scrambling to rewrite and re-shoot the sequence in order to make the film's September 7 release.
Warner Bros. spent the weekend deciding whether to delay the film's release instead of cutting the scene, but landed on re-shoots as the best option.
Gangster Squad stars Josh Brolin, Ryan Gosling, Emma Stone, Sean Penn, Nick Nolte, and Giovanni Ribisi (Ted). It tells the true story of Mickey Cohen, an East Coast gangster who terrorizes Los Angeles in the 1940s.