Hotel Transylvania Exclusive: Genndy Tartakovsky on Monster Family Film
by Joel D Amos at . Comments
When Genndy Tartakovsky came onboard to direct Hotel Transylvania, the TV animation veteran thought he'd have his hands full with slapstick animated humor given the fact that the film stars Adam Sandler as Dracula. The helmer told us exclusively on a recent visit to the Sony Pictures Animation campus that wound up not being the case.
"I realized it's not going to be that crazy," Tartakovsky said. The picture is funny, that much is for sure given the recent
Hotel Transylvania trailer
we have seen, but at its heart, this is a story about being an overprotective parent.
"I grew up in a different time where you could ride your bikes until dark. My son is ten, and we have a hard time letting him go out and ride his bike by himself. You feel those same things in
Hotel Transylvania
," he said.
In the film, Dracula's daughter Mavis (Selena Gomez) is celebrating her 118th birthday and, as promised, she is allowed to venture into the world. Given that that world does not like monsters, Sandler's Dracula is having serious issues. Since something bad happened to his wife, Mavis' mother, at the hands of humans, he built the Hotel Transylvania as a respite for monsters fleeing man's wrath.
"Dracula doesn't want to let go. The film is all about over-protectiveness, but at the same time, that's all he's got now. It's about building trust that all families can identify with."
As Gore Verbinski did in
Rango
, Tartakovsky wanted his actors performing together in the voice booth as much as possible. "Especially for the main relationships like
Adam Sandler and Andy Samberg
, to watch them go at it together, was really great… you felt the energy right away," he said.
Most animated films find their leads coming in at all different times to record their vocal tracks. With a cast that includes Sandler and Gomez, not to mention comedy heavyweights Kevin James, Samberg, David Spade and Jon Lovitz,
Hotel Transylvania's
director wanted as much comic interaction as possible -- also, to bring the heart.
"I am a big supporter of feeling things… when you felt it… it was real. Coming from TV, we did that all the time. We always have the characters together. I don't know if it's frowned upon in features or it's because of people's schedules, but there's a funny thing about it," Tartakovsky said.
"Adam even asked me when we first met, 'Will I be able to record with anybody?' I said, 'Yeah, if you want -- absolutely.' It was worth it."
Tartakovsky was worried about one performer, Gomez. As
Gomez said in our interview
, this is one of her first animated films and the director was not sure what he would get from her in such a crucial role. "One of the animators here provided the scratch track before Selena came in and we were really liking it. Then she came in and had great sincerity and started to nail it. You felt the character come out," he said.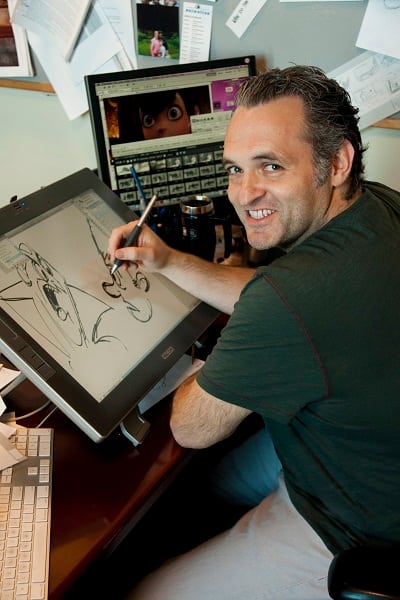 Her chemistry with her onscreen dad even popped the first moment Sandler and Gomez got together. "There was a nice dynamic between them. Some of the comedic scenes she did with Adam worked out really well. She was so professional… she brought this heart to the character. Of all the characters, she needed to bring that in spades and she did."
Coming from years of TV animation work, the helmer was a little nervous to tackle a big screen project, yet couldn't wait to get in there and make his mark… even if he was one of the last people hired. "It was like parachuting into a combat zone," Tartakovsky said and laughed.
But, it was his past on TV that allowed him to come in with a strong point of view.
"I had confidence. I worked in the industry for a long time and I've made a lot of mistakes and I've told a lot of jokes -- some worked, some fell flat. So I felt like I know how to communicate a joke in a specific way -- how to shoot it, how to perform it. That's really what my job is, to communicate these ideas," he said.
"I can't imagine doing this project without doing the amount of work that I've done. It is a constant test. People are tugging at you 24/7 and [
laughs
] you have to stay strong because the movie will go left and right and never get anywhere."