Ice Age Continental Drift Exclusive Interview: The Wanted Scores a Theme
by Joel D Amos at . Comments
The Wanted is quickly becoming one of the most popular acts in the world. You can imagine the thrill when the UK band heard that their song Chasing the Sun was tapped to serve as the title theme to Ice Age: Continental Drift, achieving one of their goals. The entire group visited with Movie Fanatic for an exclusive interview about checking off one of those bucket list moments.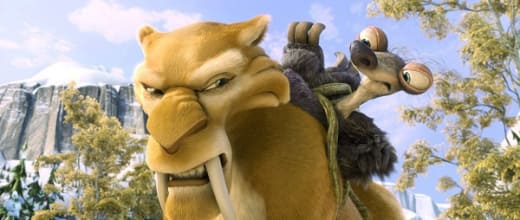 "When we first got into the music business, it was always an aspiration to have a song in a film. We still hadn't made it through for a couple years and then
Ice Age
came up with the opportunity and it was like, 'Wow, that was great.' We're really thankful for it," Tom Parker said. "I think it fits really, really well with what the scene is as well."
The song itself was already written and it appears that landing
Chasing the Sun
in the fourth
Ice Age
was a classic case of serendipity.
"We had the song made earlier and we were on the verge of releasing it and this was offered to us," Jay McGuiness added.
"We did this pretty fast because it's an amazing thing to be a part of
Ice Age
. Basically we accepted it and they showed us where we were going to play and obviously we did it and made a video just to promote it and show off
Ice Age: Continental Drift
. It was pretty simple and basic. It wasn't a long thing, which was really kind of nice."
Max George added that he was amazed that a song that was written without the movie in mind managed to seamlessly fit so well. "We wrote the music before the movie. [Producers] more liked the song directly and thought that it fit well into the movie," George said. "So we kind of walked in. It was just coincidence more than anything. It did fit in and I feel that it fills up the movie."
McGuiness never thought they'd be a part of something so enormous… the
Ice Age
films have made hundreds of millions of dollars. "It's really flattering, I suppose, that our songs appeal to something so big, because
Ice Age
is a massive franchise and it's the fourth movie and it's got some massive stars in it," he said. "The fact that our work can relate to something so huge is a huge complement to us."
Tom Parker believes that the universality of the
Ice Age
movies is why they are so popular, as shown off in the
Ice Age: Continental Drift trailer
. "I think everyone can relate to individual characters. I've been compared to Scrat several times at least during these interviews over the last hour and a half, which I'm fine with," Parker said. "I think everyone can relate to every character."
Nathan Sykes adds that his favorite aspect of the
Ice Age
series is how they effortlessly add new characters without sacrificing the integrity of those characters we started the franchise with in the 2002 movie.
"I think that's what's so good about the franchise is that even when they introduce the new characters into the film, there is a way of relating to each and every character but also bringing it back to the strong pack that started the franchise," he said.

Lastly, we wanted to know which character in Ice Age: Continental Drift is the Wanted's favorite.

Tom Parker: My favorite character is Scrat.

Jay McGuiness: My favorite character would be Diego.

Max George: Mine would be Shira just because it's Jennifer Lopez.

Siva Kaneswaran: Mine is the mammoth, because he's so big and nicely hung!

Nathan Sykes: My favorite character is Sid the sloth.