The gang you love from the Ice Age movies is back in Ice Age: Continental Drift. And as many movies deep into their franchise do, the cast has greatly expanded. At the outset, this Ice Age: Continental Drift movie review was ready to focus on how a series can become bloated. Yet, after witnessing the film, that is not the case with the latest journey into the Ice Age world.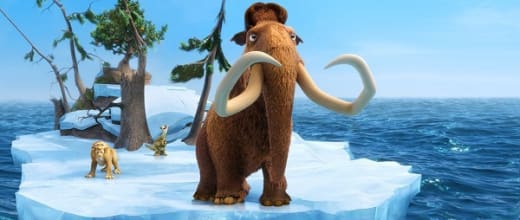 Ray Romano, John Leguizamo and Denis Leary still anchor the story -- along with later addition Queen Latifah. But new additions Peter Dinklage, Jennifer Lopez, Aziz Ansari, Nicki Minaj, Keke Palmer and Nick Frost seamlessly join the ensemble fun.
Thanks to Scrat (and that little thing known as the continental shift), the entire planet begins to come undone. Great lands are being separated and the geographical maps we know today take place. In the fourth
Ice Age
, this extraordinary natural act also rips apart families of mammoths, led by Romano.
But he has his gang from the original series to make the arduous journey with. The splitting of the story is exactly why this edition of
Ice Age
feels so fresh.
Leary, Leguizamo and Romano are a trifecta of animated comic chemistry. As they are stuck on a piece of ice that is divided, they drift out to sea beyond the clutches of their loved ones.
As so effectively introduced in the
Ice Age: Continental Drift trailer
, filmmakers introduce new characters anchored from the two front stories. Palmer is Peaches, Latifah and Romano's daughter, and the journey to rejoin the family at a predetermined site is thwarted by the changing globe.
There could not be more of a surprise this summer than the joy gleaned from
Ice Age: Continental Drift
. Several laugh-out loud moments were seamlessly joined with awe-inspiring cinematic beauty and emotional bridges to which any family can relate.
The actor who steals the show is Dinklage.
The Game of Thrones
star lights up the screen with his vocal performance as the head pirate that gets in the way of Romano and company returning home. Considering the vocal talents of this huge cast, that is a feat, and the actor is largely responsible for the film's raucous good time.
Could the franchise continue?
After viewing the film, it seems unavoidable. But, that is a very good thing. You see, when it comes to family entertainment that both parents
and
children can enjoy,
Ice Age
movies tend to score.
Continental Drift
finds its way into your heart and is not easily forgotten. It's pure fun.