Lawless Infographic Offers Facts About Moonshine: Leaving Out the Fact that it Tasted Gross
by Micah J Gordon at . Comments
We loved Tom Hardy as Bane in The Dark Knight Rises, but now we'd like to see what he can do without that weird inhaler mask on. Hardy will go from playing a comic book super villain to a Virginia bootlegger in Lawless.
Following the Lawless gun infographic, we now have a little taste (albeit a highly alcoholic, fiery, disgusting taste) of what moonshine is all about. Check it out: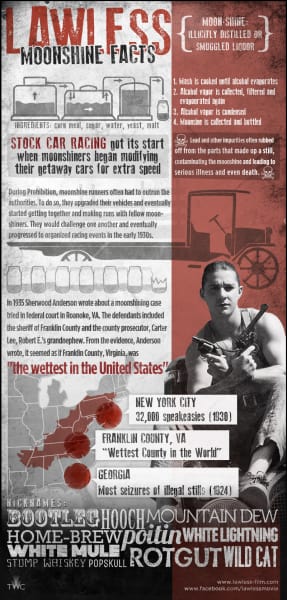 Lawless stars Hardy, Jason Clarke, and Shia LaBeouf as the bootlegging Bondurant brothers. Guy Pearce plays a Special Agent assigned to the town, with Gary Oldman, Jessica Chastain, and Mia Wasikowska also starring.
John Hillcoat directs the screenplay by Nick Cave. Lawless comes out August 31. Until then, check out the Lawless trailer.