Looper to Premiere at the Toronto International Film Festival: Plus Argo, Anna Karenina, and More!
by Micah J Gordon at . Comments
The Toronto International Film Festival has announced its full lineup, and it includes tons of world premieres for the fall's most anticipated films.
Looper is the star of the festival, and will premiere as TIFF's "Opening Night Film." The "Galas" and "Special Presentations" programs feature such premieres as Argo, Anna Karenina, End of Watch, and The Perks of Being a Wallflower.
Check out the Looper trailer, then scroll down to read the full list of Gala and Special Presentation films below, along with each one's director, country of origin, and type of premier.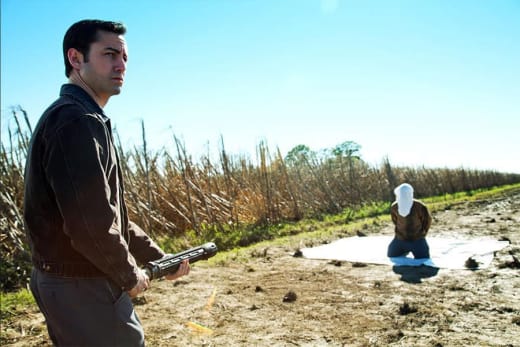 GALAS:
A Royal Affair Nikolai Arcel, Denmark/Sweden/Czech Republic/Germany, North American Premiere
Argo Ben Affleck, USA, World Premiere
The Company You Keep Robert Redford, USA, North American Premiere
Dangerous Liaisons Hur Jin-ho, China, North American Premiere
English Vinglish Gauri Shinde, India, World Premiere
Free Angela & All Political Prisoners Shola Lynch, USA/France, World Premiere  
Great Expectations Mike Newell, United Kingdom, World Premiere
Hyde Park on Hudson Roger Michell, United Kingdom, World Premiere
Inescapable Ruba Nadda, Canada, World Premiere
Jayne Mansfield's Car Billy Bob Thornton, USA/Russia, North American Premiere
Looper Rian Johnson, USA, World Premiere
Love, Marilyn Liz Garbus, USA, World Premiere
Midnight's Children Deepa Mehta, Canada/ United Kingdom, World Premiere
The Reluctant Fundamentalist Mira Nair, USA, North American Premiere
Silver Linings Playbook David O. Russell, USA, World Premiere
Thermae Romae Hideki Takeuchi, Japan, North American Premiere
Twice Born Sergio Castellitto, Italy/Spain/Croatia, World Premiere

SPECIAL PRESENTATIONS:
A Few Hours of Spring Stéphane Brizé, France, North American Premiere
Anna Karenina Joe Wright, United Kingdom, International Premiere
At Any Price Ramin Bahrani, United Kingdom/USA, North American Premiere
The Attack Ziad Doueiri, France, World Premiere
Byzantium Neil Jordan, United Kingdom, World Premiere
Capital Costa-Gavras, France, World Premiere
Caught in the Web Chen Kaige, Japan/China, International Premiere
Cloud Atlas Tom Tykwer, Andy Wachowski, Lana Wachowski, USA, World Premiere
The Deep Baltasar Kormákur, Iceland/Norway, World Premiere
Dormant Beauty Marco Bellocchio, Italy/France, International Premiere
Dreams for Sale Nishikawa Miwa, Japan, World Premiere
End Of Watch David Ayer, USA, World Premiere
Everybody Has A Plan Ana Piterbarg, Argentina, International Premiere
Foxfire Laurent Cantet, France/Canada, World Premiere
Frances Ha Noah Baumbach, USA, World Premiere
Ginger and Rosa Sally Potter, United Kingdom, World Premiere
Hannah Arendt Margarethe von Trotta, Germany, World Premiere
The Hunt Thomas Vinterberg, Denmark, North American Premiere
The Iceman Ariel Vromen, USA, North American Premiere
Imogene Robert Pulcini, Shari Springer Berman, USA, World Premiere
The Impossible J.A. Bayona, Spain/USA, World Premiere
In the House François Ozon, France, World Premiere
Kon-Tiki Joachim Roenning and Espen Sandberg, United Kingdom/Norway/Denmark, International Premiere
The Last Supper Lu Chuan, China, World Premiere
A Late Quartet Yaron Zilberman, USA, World Premiere
A Liar's Autobiography — The Untrue Story of Monty Python's Graham Chapman Ben Timlett, Bill Jones, Jeff Simpson, United Kingdom, World Premiere
Lore Cate Shortland, Australia/United Kingdom/Germany, North American Premiere
Mr. Pip Andrew Adamson, New Zealand, World Premiere
Much Ado About Nothing Joss Whedon, USA, World Premiere
No Pablo Larraín, Chile/USA, North American Premiere
Outrage Beyond Takeshi Kitano, Japan, North American Premiere
The Perks of Being a Wallflower Stephen Chbosky, USA, World Premiere
The Place Beyond the Pines Derek Cianfrance, USA, World Premiere
Quartet Dustin Hoffman, United Kingdom, World Premiere
Reality Matteo Garrone, Italy/France, North American Premiere
Rust and Bone Jacques Audiard, France/Belgium, North American Premiere
The Sapphires Wayne Blair, Australia, North American Premiere
The Sessions Ben Lewin, USA, International Premiere
Tai Chi 0 Stephen Fung, China, North American Premiere
Thanks for Sharing Stuart Blumberg, USA, World Premiere
The Time Being Nenad Cicin-Sain, USA, World Premiere
To The Wonder Terrence Malick, USA, North American Premiere
Venus & Serena Maiken Baird, USA, World Premiere
Writers Josh Boone, USA, World Premiere
Zaytoun Eran Riklis, United Kingdom/Israel, World Premiere