Director Guillermo del Toro arrived in San Diego to show off some scenes from his highly anticipated, deeply secretive film Pacific Rim. The film was one of our Comic-Con 20 Films to Watch and fresh off of showing footage to the packed Hall H crowd, the filmmaker spoke about the experience to reveal just a smidgeon of his film that looks utterly mind-blowing.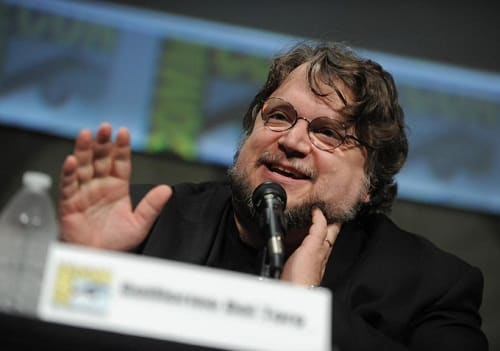 The
Don't Be Afraid of the Dark
producer seemed to welcome the reaction to his
Pacific Rim
, given the massive amount of work he still has to do on the film.
"You have to take into account," del Toro said, "that what we were able to show, twelve weeks ago we were shooting."
His method of crafting a film certainly helped him ready footage for Comic-Con. "The way I shoot is I shoot and edit at the same time," he said. "That allowed me to start picking some shots to prepare for Comic-Con. None of the shots were final, final the way they are going to be in the movie."
What del Toro is most proud of through the entire
Pacific Rim
experience is how he feels he raised his own already high bar. "This movie was a big, big growth for me as a director. It represented a chance, in the same way that
Pan's Labyrinth
represented for me, to do something in the Spanish language that I've tried before. But I wanted to show what I could do with more support and more freedom," del Toro said.
"To me,
Pacific Rim
represented that, at another scale. And, as a director, I concentrate on things that I felt personally that I needed to improve from the other films and concentrate on things I haven't tried. It was a huge experience -- the best I've had in any film set in all my life. I enjoyed absolutely every moment."
When it comes to what inspired the filmmaker to spend years of his life bringing
Pacific Rim
and its story to the screen of a monster invasion set to take over the Earth and the giant robots humans built to fight them off, one only has to look to the land of the Rising Sun.
"There are two subgenres that are very powerful in Japan. One is the Kaiju films and the other is a giant robot subgenre," del Toro said.
"What I thought is, these are things that are part of my nutritional makeup growing up. I literally was raised watching those movies. And one of the points I wanted to make while making the movie -- I made it clear to my designers, to every head of every department -- was that we should not reference other movies. We should not re-watch
Gamera
or re-watch
Godzilla
because we love them. We should not be doing a referential film."
Those influences are felt in the Comic-Con footage, but never feel like a tribute. In fact,
Pacific Rim
is much more epically beautiful than any of those films. "I try to bring an operatic grandeur to it," he added.
Because the film is shrouded in such mystery, del Toro cannot give away too many details. Of his cast and crew, he is most worried it will be him who slips up and leaks information. "I'm the guy that I'm nervous about in any project to spill any beans," he said.
It is his utter adoration for this project that he feels will help him keep his mouth shut. It's too imperative for the audience to enjoy this film without any background knowledge.
"I think it's important that, for a world we are trying to make fresh, we keep it fresh, not kill it with love. So, contrary to everything that I've ever done, we are really not talking about this movie," del Toro added. "We can introduce the world in this project slowly and we make this experience more enjoyable."
But, when the filmmaker behind so many instant classics utters his final phrase… one can be sure to expect something truly special.
"I'm sorry I cannot say more because I would be spoiling stuff, and it's a year away. But there are things in the movie that I'm the proudest of I've ever made," del Toro said. "I have created a whole new world."